Carnegie Mellon Poet Garners Prestigious Award
The Poetry Society of America (PSA) has given its prestigious William Carlos Williams Award to Carnegie Mellon's Anthony Butts, an assistant professor of creative writing, for his book "Little Low Heaven." Butts' work was selected from 100 books nominated this year.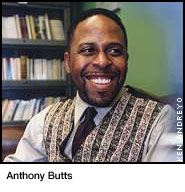 The PSA gives the award every year for the best book of poetry published by a small press, non-profit or university press. "Little Low Heaven," Butts' second full-length poetry book, was published by New Issues Press at Western Michigan University. The William Carlos Williams Award is among poetry's most coveted awards. Butts received the award April 29 during a dinner in New York City.
For Butts, winning the award was made sweeter by the fact that this year's judge, Lucie Brock-Broido, is a poet whose work he greatly admires. "She writes about things that matter. I feel a great deal of pride that she chose my poetry, because that's what I aspire to do: to write poetry that matters," Butts said.
A Detroit native, Butts is in his third year as a professor at Carnegie Mellon, home to one of the nation's best creative writing programs. He also is the author of "Fifth Season" and the chapbook "Evolution." In 2001, he was the recipient of an Ohio Arts Council Individual Artist Grant.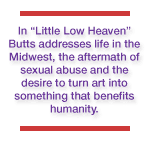 In Little Low Heaven, he addresses a variety of subjects, including life in the Midwest, the aftermath of sexual abuse and the desire to turn art into something that benefits humanity.
"I tried to make these themes universal and understandable to everyone. It's about what it means to be an outsider among outsiders," Butts said.
Butts' poetry has been published in several anthologies: Giant Steps: The New Generation of African American Writers, American Poetry: The Next Generation, Abandon Automobile: Detroit City Poetry 2001, and Passages 11 Anthology. His poems also have appeared in the journals Meridian, Whiskey Island Magazine, Callaloo and Minnesota Review.
Butts earned his undergraduate degree in English from Wayne State University in 1992 and earned his doctorate in poetry writing and the history of American poetry in 1999 from the University of Missouri-Columbia.
"Little Low Heaven" is available through Amazon.com and through Small Press Distribution.
Jonathan Potts