Laura Lee and Jeannette Wing Named to Top Administrative Positions
Laura Lee and Jeannette Wing have been appointed to the top posts in Carnegie Mellon's School of Architecture and Computer Science Department, respectively.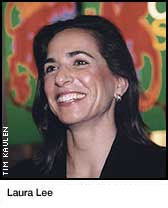 Lee, a member of the architecture faculty since 1988, succeeds Vivian Loftness as head of architecture. Loftness will step down to return to the faculty at the end of June. Wing, associate dean for academic affairs in the School of Computer Science (SCS) for the past five years, replaces Randy Bryant as head of the Computer Science Department. Bryant became dean of SCS on April 1.
Both Lee and Wing are recognized for their excellent teaching, research and leadership.
"Laura represents the best of Carnegie Mellon leadership," said Martin Prekop, the Stanley and Marcia Gumberg Dean of the College of Fine Arts (CFA). She is well respected in the field of architecture and will bring excellent leadership to enhance the reputation of the school."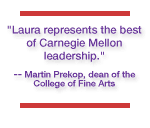 Bryant said, "Jeannette has shown great talent for leadership and a concern for the well-being of everyone. Her unbounded energy and enthusiasm motivates us all to do a better job."
Lee said she hopes to bring the School of Architecture to prominence as a national leading model for integrated and applied design education, research and practice.
"By engaging students, faculty and alumni, I aim to increase collaboration with the other four schools in the College of Fine Arts, with other disciplines at Carnegie Mellon, and with other academic institutions, industry and practice," Lee said.
"With the perspective that design is the critical knowledge of the future and is inherently an interdisciplinary act, the role of the school is to prepare aspiring architects to make contributions in the world, to establish and maintain channels of mutual influence, and to serve as conduits for the exchange of knowledge and innovations."
Lee, a past recipient of Carnegie Mellon's Ryan Award for Meritorious Teaching, teaches courses in design studio, professional practice, the interdisciplinary arts workshop and architecture for non-majors. She has also taught at the Higher Institute of Architecture in Antwerp, Belgium; the Royal Danish Academy of Fine Arts in Copenhagen; the Swiss Federal Institute of Technology in Zurich and the University of Michigan, where she received her master's degree.
She has lectured in North America and in Europe and has presented and published many papers including "Cities for Buildings: Building for Cities" and "Architecture from Art," and co-authored "Uncovering the City: Architectural Dialogues," an exhibit that traveled throughout the U.S., Canada and Europe.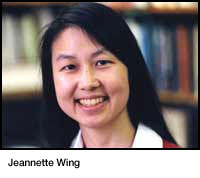 Wing, a professor of computer science, is recognized as an international leader in formal methods, the use of mathematical models and logics to specify and reason about computing systems. The common thread in her work is the use of precise specifications to describe the behavior of software, and she uses these behavioral specifications to define correctness conditions for software design.
Wing has made fundamental contributions to many areas of computer science, including abstract data types, object-oriented programming, concurrent systems and fault-tolerant distributed systems. Since 2001, Wing has been director of Carnegie Mellon's Specification and Verification Center, which conducts research in new advances in formal methods and their applications to safety- and mission-critical systems.
Recently, her research interests have turned to security. She and her students extended model checking, a verification technique developed by her colleagues at Carnegie Mellon, to generate attack graphs automatically. Attack graphs succinctly represent all ways in which an attacker can break into a system, given a formal model of the system and its threats. Further automated analyses of these attack graphs help system administrators visualize tradeoffs when deploying different security measures.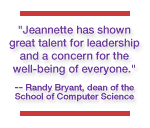 Wing is especially interested in how system components not originally designed to work in concert can lead to surprising behavior when combined. Attackers can exploit these unexpected interactions to their advantage. These kinds of design-level vulnerabilities are of great interest to companies like Microsoft Corp., where she took a sabbatical last year. To kick-start this research effort, Wing ran a summer institute on software security sponsored jointly by Microsoft Research, the University of Washington and Carnegie Mellon. She is a member of Microsoft's Trustworthy Computing Academic Advisory Board.
Wing has greatly enhanced the educational programs in SCS. One of her most influential contributions has been in the redesign of the master of software engineering program. In 1993, she and her colleagues spearheaded a radical curriculum revision, introducing five new core courses, three of which she has personally taught. These courses now reach students around the world, from India and Korea to South Africa, through SCS' extensive distance education program.
Wing attended the Massachusetts Institute of Technology, where she earned bachelor's and master's degrees in electrical engineering and computer science in 1979 and a doctor's degree in computer science in 1983.
For more on Wing, visit http://www.cs.cmu.edu/archive/2004/2004pages/wing.html
For more on Lee, visit http://www.cmu.edu/PR/releases04/040421_llee.html
Anne Watzman and Eric Sloss