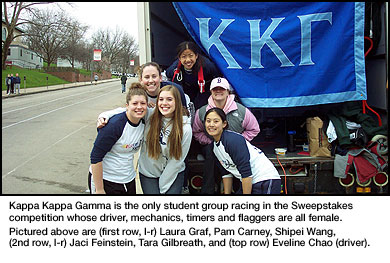 Kappa Kappa Gamma is the First All-Women's Organization to Enter Spring Carnival's Sweepstakes Races
Kappa Kappa Gamma will be the first all-women's organization in Carnegie Mellon history to enter the annual Sweepstakes competition, also known as the buggy races, this Friday and Saturday, April 16-17.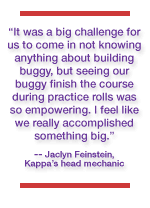 Kappa is the only student group racing in the Sweepstakes competition whose driver, mechanics, timers and flaggers are all female. The sorority decided to enter the competition, a campus tradition since 1920, only one year ago.
"Sweepstakes is hard work even when you've been at it for a while, but the ladies of Kappa Kappa Gamma never even missed a beat. They've come a long way in one year and I know they're only getting started. It's truly been wonderful to be chairman this year as Kappa makes Sweepstakes history," said Janice Golenbock, chair of the Sweepstakes Committee.
The Sweepstakes competition is a highlight of each year's Spring Carnival, as the campus community gathers to watch independent and fraternal organizations race their aerodynamic cylinders, called buggies, around the 4,400 feet course along Tech Street, Schenley Drive and Frew Street. Until this year, men have typically dominated the Sweepstakes competition.
The buggy's shell, steering, and wheels have been entirely remodeled by Kappa's own mechanics. The buggy is named "Ursula," and is painted in purple and black to resemble the Disney villain for which it is named.
"Organizations now have up to 80 years of experience to know what works and what doesn't to build a buggy. It was a big challenge for us to come in not knowing anything about building buggy, but seeing our buggy finish the course during practice rolls was so empowering. I feel like we really accomplished something big," said Jaclyn Feinstein, Kappa's head mechanic.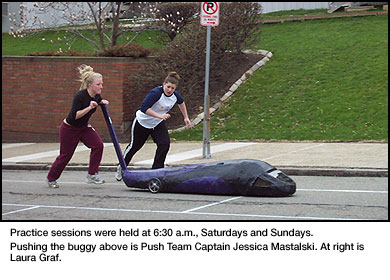 Kappa has push teams (students push the buggy up several hills along the course) competing in both the women's and the men's divisions. Though Kappa is new to participating in buggy, its pushers are very excited about pushing for Kappa.
"My favorite part about pushing for Kappa is going out for practice rolls on the weekends with all of my sisters. We definitely have the most fun of any team out there, even at 6:30 in the morning," said Catherine Mack, a member of Kappa's women's push team.
Although buggy was initially an all-male event, co-ed independent organizations have been involved in buggy since the 1960s. In the 1970s, the demand for a women's race created a separate event for a women and men's relay. Despite the fact that women had their own race, there has never been an all-women's team competing in the Sweepstakes competition.
"I think it's a fantastic accomplishment for Kappa and for Sweepstakes as a whole. I've watched these women work so hard to make this a reality. Their presence can only add to the competition and hopefully be an inspiration for other women's groups to participate as well," said Rowshan Palmer, university advisor to the Sweepstakes Committee.
For more on Spring Carnival and the buggy races, visit http://www.andrew.cmu.edu/org/carnival/