Brown, Rudich and Walker Earn Accolades for Teaching and Advising
Carnegie Mellon honored three distinguished faculty members for their dedication and contributions to teaching at the annual Education Awards on Tuesday, April 13. Biological Sciences Professor William Brown received the Robert E. Doherty Award for Sustained Contributions to Excellence in Education, School of Computer Science Professor Steven Rudich earned the William H. and Frances S. Ryan Award for Meritorious Teaching, and Associate Head of Mathematical Sciences Russell Walker garnered the Academic Advising Award.
Graduate students Ashish Venugopal and Elisa Echeverría received the Graduate Student Teaching and Service awards, respectively.
William E. Brown

Professor of Biological Sciences William E. Brown earned this year's Doherty Award for his contributions to the development, implementation and evaluation of educational programs at all levels. The Doherty Award is considered the university's greatest honor.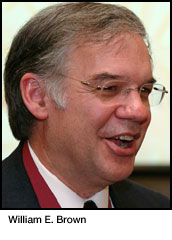 In his more than 30 years at Carnegie Mellon, Brown has been recognized as a "master teacher," tireless researcher and community champion. He has served the university in a number of roles, including head of the Department of Biological Sciences, and has devoted his entire career to advancing the education, research and service missions of Carnegie Mellon.
In the early 1970s, Brown served as one of the core members of the newly formed Department of Biological Sciences. According to colleagues, even in the early days Brown "was committed to conveying his enthusiasm for science" to his students. "He is a wonderful teacher, deeply concerned with the learning and development of students."
Brown created the interdisciplinary Bachelor of Science and Arts program with then head of Art, Dr. Bryan Rogers, and is co-Director of the University Pittsburgh/Carnegie Mellon M.D./Ph.D. program, which allows medical students to perform their Ph.D. research at Carnegie Mellon. He helped to found the Pennsylvania Governor's School for the Sciences, a program that brings talented high school students from across the commonwealth to campus for a preview of college-level science education.
Brown's dedication to education extends into the greater community. Thanks to his efforts, roughly 98 percent of secondary science teachers in the Pittsburgh Public Schools are now computer literate. He also helped create the Internet Connectivity and Teacher Resource Center at the Carnegie Science Center and serves on the center's Board of Directors. Through a collaboration with Paul Goodman at the Tepper Business School, the university's Technology Enhanced Learning Lab and several Latin American universities, Brown has been engaged in developing workshops on strategies to assess the use of educational technology in education.
One student summarized Brown's dedication to education this way: "Education, in all its forms, is not a job or a duty for Bill, it is a passion—a passion he has instilled in many and his work is a model for us all to aspire toward.... None of us could ever measure the true impact of all that Bill Brown has done, but his sustained and significant contribution to excellence on our campus and beyond is indisputable."
Steven Rudich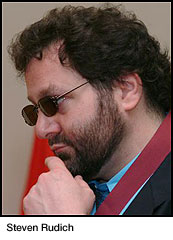 School of Computer Science (SCS) Professor Steven Rudich won this year's William H. and Frances S. Ryan Award for his unusual devotion and effectiveness in teaching. For more than a decade, Rudich has taught SCS' most important introductory and advanced courses in theoretical computer science, and his success is evident in the accolades he has received from colleagues and students alike.
According to the SCS nominating committee, Rudich teaches a variety of courses, but devotes most of his time to "Great Theoretical Ideas in Computer Science." Students respond positively to the class, despite the fact that it is very difficult and a required course in the Computer Science Department.
One student commented, "This course was just unbelievably hard at times, but wonderfully taught...and absolutely worth the work."
Rudich motivates his students through electrifying lectures. His colleagues call him one of the hardest working teachers in SCS, an educator who spends hours developing ideas and weighing them to eliminate ineffective techniques. His "electrifying" lectures have earned respect from educators across the globe and his course materials, available on the Web, have been used at the University of California, Berkeley, and Northeastern University.
Rudich's devotion to teaching extends beyond his undergraduate courses. He also leads Andrew's Leap, a summer science and math program for talented high school students in the Pittsburgh area.
One colleague noted, "In the full sense of the word 'educator,' I quite frankly do not know of his equal anywhere."
Russell C. Walker

Russell C. Walker won this year's Academic Advising Award for his outstanding contributions in helping students define and achieve their academic goals.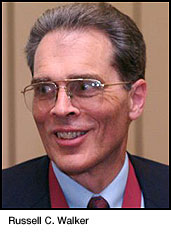 For more than 15 years, Walker has been the primary advisor to all undergraduate majors and minors in the Department of Mathematical Sciences. He advises them on which courses to take, their career options and sometimes even personal matters. He also places freshman and transfer students in mathematics classes, regardless of their major, and talks to prospective students and their parents. According to Roy Nicolaides, head of the Department of Mathematical Sciences, Walker's door is never closed to students.
In addition to advising students, Walker developed an innovative program for supervising teaching assistants, improving the quality of recitation sessions and encouraging strong students to pursue teaching careers. Walker has also reactivated Pi Mu Epsilon, the national mathematics undergraduate fraternity, and reinvigorated the department's Student Advisory Council.
Walker's nominating committee noted that "to say that advising is part of his job description is to grossly understate the exemplary job he does for the department and the university." In addition to merely "advising" more than 150 undergraduates, Walker conducts four or five "Sleeping Baggers," where he meets with prospective students who are visiting campus. He also assigns faculty mentors for each mathematics major, maintains a list of contacts for internships and arranges for meetings between potential employers and students.
One student noted that "Walker will bend over backwards to make sure students can finish the courses they need to achieve their academic goals.... Thanks in large part to his encouragement, advice and hard work, I have now been admitted to graduate school here at Carnegie Mellon and will be able to pursue a career in statistics, a dream that five months ago I never believed I would realize."



Graduate Students Earn Honors for Teaching, Service
Ashish Venugopal, a student in the Language Technologies Institute, and Elisa Echeverría, a second-year Heinz School student, received this year's Graduate Student Teaching and Service awards, respectively.
Ashish Venugopal
Ashish Venugopal received this year's Graduate Student Teaching Award.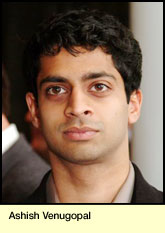 Venugopal is the head teaching assistant for "Principles of Economics," one of the university's largest lecture courses. Senior Lecturer Patrick Sileo, notes that Venugopal is "one of the best people in the classroom I have ever witnessed."
His students praise his ability to make a large lecture course interesting for everyone. "Ashish has an easy confidence combined with more energy than I have ever seen in a lecture situation," said one of his students. "This is not just the energy of youth, which allows him to run up and down stairs, keeping all areas of the huge hall engaged, but the energy of voice, the impression that he really enjoys teaching and wants his class to enjoy being there."
Students also appreciate the ways Venugopal uses technology to improve their education. On the day before an exam, Venugopal introduced 24-hour instant messenger help. He created a screen name and students could send him a message at any time that day (or night) if they had questions about concepts on the exam. If the answer required graphics, he used Carnegie Mellon's Blackboard system to display them. Venugopal was reported to be available until at least 2 a.m. on the morning of the exam.
Elisa Echeverría
Elisa Echeverría, a master's student in the Heinz School's public policy and management program, received this year's Graduate Student Service Award. The award recognizes a student who has advanced the interests of the university's graduate students, improved their quality of life on campus and contributed to the larger academic and surrounding community.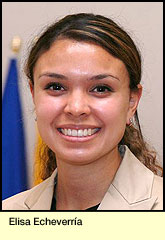 Echeverría was a founding member of the Heinz School's Diversity Committee. She eventually became the group's informal leader, managing meetings and marketing events to the student body. With her commitment, the committee has made their school a place where people of all types celebrate their differences and learn from one another.
Echeverría also serves as vice president of the Black Graduate Student Association. She joined the Black History Month Planning Committee and worked diligently to bring high-profile speakers, like astronaut Mae Jemison, to campus. Echeverría was also selected as a Multicultural Intern in the Office of the Dean of Student Affairs, where she tries to bridge the gaps between undergraduate and graduate experiences at Carnegie Mellon. She also works tirelessly as a member of SALSA, the Spanish and Latin Student Association.
After she graduates in May, Echeverría plans to take her commitment to diversity to the world when she joins the Peace Corps.
Heinz School Dean Mark Wessel said, "She has amazing potential and truly cares about her peers and the overall Carnegie Mellon community. Elisa Echeverría is exactly the kind of student that I expect great things from."
Susan Cribbs