Drama Professor Creates Educational Theater Program in South Africa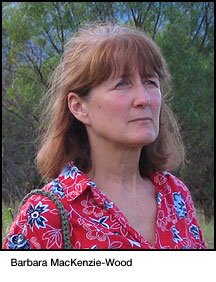 Barbara MacKenzie-Wood recently took her theater directing skills and humanitarian ways to South Africa to help provide 100 boys affected by HIV/AIDS an educational experience they'll not soon forget.
An associate professor and coordinator of the acting option in Carnegie Mellon's School of Drama, MacKenzie-Wood created a theater program and directed two theater pieces at Camp Sizanani, a pilot project of the international World Camps. World Camps, a nonprofit organization created to establish residential camps for children affected by HIV/AIDS, provides children in developing nations with experiences away from home that promote skills, maturity, independence, an awareness of public health issues and cross-cultural interchange.
Camp Sizanani, named for the Zulu word meaning "helping each other," was a 10-day program in which children lived with children from various ethnic groups, religions and tribal cultures. A key aspect of the theater program was to enable them to share songs, stories, games and other aspects of each other's cultures in a fun setting.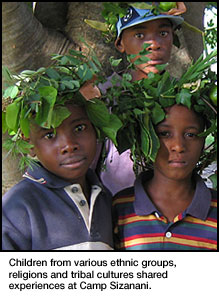 "It was truly inspiring working with the children, and it was also the most joyous of experiences. I was most impressed by their willingness to jump right in, their ability to problem solve as a group, their musical sophistication and the commitment they brought to the pieces," said MacKenzie-Wood, founder of the Irondale Ensemble Project, a New York theater company that uses theater classes to educate children in New York City public schools about HIV/AIDS.
"We used a number of African stories as the basis for sections of the performance, but they also created a most memorable version of the 'Three Little Pigs,' which they insisted be included. I am honored and inspired to take part in what I believe is a truly important and significant venture."
The camp's staff of 20 was evenly divided between participants from South Africa and the United States and included Peace Corps volunteers, youth workers and athletics coaches.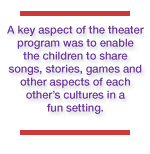 World Camps plans to hold several more sessions replicating the pilot project over the next year. In March the experience was offered to 100 girls between the ages of 8 and 15. Two sessions will take place in June and July, and a separate project for training peer educators will be held in September.
The goal is for Sizanani to be self-sustaining within three years and under local control, while World Camps goes on to create similar programs in other parts of South Africa and in other African countries. Discussions have already begun about possible camps in Kenya, Botswana and Zimbabwe.
Eric Sloss