Carnegie Mellon has selected Randal E. Bryant and Mark G. Wessel to lead two of the university's world-class schools. Byrant, head of the Computer Science Department, has been named dean of the top-ranked School of Computer Science (SCS). Wessel will take the helm of the H. John Heinz III School of Public Policy and Management, where he has served as acting dean since last February.
Bryant Named Dean of SCS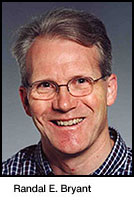 Bryant, a 20-year member of the SCS faculty, has achieved wide recognition in academia and industry for developing computer-aided design tools that simulate and verify digital circuits, and for his research in symbolic manipulation and parallel computation. He succeeds Jim Morris, who stepped down as dean to pursue other duties at the university, including greater involvement in Carnegie Mellon's West Coast Campus. Morris has served as dean of SCS since 1999.
Bryant earned a bachelor's degree in applied mathematics from the University of Michigan in 1973. He received a doctor's degree in electrical engineering and computer science from the Massachusetts Institute of Technology in 1981.
He spent three years as an assistant professor of computer science at the California Institute of Technology before coming to Carnegie Mellon as an assistant professor in 1984. Bryant became an associate professor of computer science in 1987 and a full professor in 1990. He was named head of the Computer Science Department in 1999 and also holds a courtesy position in Carnegie Mellon's Electrical and Computer Engineering Department.
"Randy Bryant is the quintessential computer science professor," said Carnegie Mellon President Jared L. Cohon. "He has done outstanding research that many companies depend upon to verify the basic soundness of their computer systems. He is also known for excellence in teaching and for creating exciting new courses of study for undergraduate students in computer science. He has been an outstanding department head and he will be a great dean."
For more information, visit http://www.cmu.edu/PR/releases04/040316_newdean.html.
Wessel To Lead the Heinz School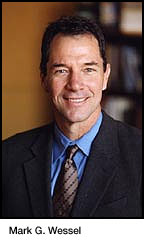 As dean of the Heinz School, Wessel will direct the school's academic programs in public policy and management, health care policy and management, arts management, public management, medical management, educational technology management, and information security policy and management. He also will be responsible for academic programs in information systems and technology management and for six research centers.
"I am very pleased that Mark Wessel will assume the deanship. He will provide strong leadership and superb management skills. I look forward to continuing to work with him," said President Cohon.
Wessel came to the Heinz School in 1993 and has served in administrative capacities such as director of health care programs, associate dean, senior associate dean and chief operating officer. His responsibilities have included management of the school's operational functions, program development and management, development and oversight of the school's master's programs in information technology management, and student advising.
"For more than a decade, Mark Wessel has provided consistent leadership and vision while serving the Heinz School in a wide variety of key posts," said Provost Mark Kamlet, who was dean of the Heinz School from 1994 to 2000. "He will continue to build upon the Heinz School's strengths, particularly at the intersection of policy, management and information technology."
Wessel is a former economist and financial analyst for the United States Department of Energy. Prior to coming to Carnegie Mellon, he was a development specialist with the Mon Valley Initiative, where he developed community-based regional economic and social development strategies and projects for distressed communities in Western Pennsylvania.
He served as assistant to the associate dean and undergraduate economics advisor at the University of Wisconsin at Madison, where he earned his master's degree in economics. Wessel earned a bachelor of science degree in foreign service from Georgetown University.
For more information, see http://www.cmu.edu/PR/releases04/040331_mwessel.html.
Anne Watzman and Teresa Thomas