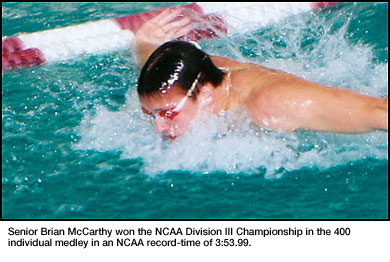 NCAA Champions Lead Tartans to Best National Finish; Belowich Named Coach-of-the-Year
Paced by national champions Brian McCarthy and Chris Pearson, Carnegie Mellon's men's swimming team finished third in the NCAA Division III Championships, its best national standing. McCarthy touched first in the 400 individual medley in an NCAA record time of 3:53.99, and Pearson won the 200 freestyle in a school record 1:37.70.

McCarthy and Pearson led a Carnegie Mellon field of 10 competitors who earned All-America honors in eight individual events and five relays. Head Coach David Belowich was voted the NCAA Coach-of-the-Year for the Tartans' impressive performance. Kenyon College won its 25th straight national title, followed by Emory University and Carnegie Mellon.
McCarthy, who won the NCAA 200 individual medley in 2002, earned six All-America citations in the meet. Pearson and senior Brian Jucha each earned seven All-America certificates. Pearson finished second in the 500 freestyle and 200 butterfly, setting new school marks in each event. Jucha was fifth in the 50 and 100 freestyles and sixth in the 100 butterfly.
Jucha, Pearson and McCarthy swam together on three All-American relays, the second-place 200 medley and 400 freestyle teams, and the fifth place 400 medley squad. Other All-American relay team members were Brian Belowich (400 medley), Brian Hunter (200 medley) and Evan Powell (400 freestyle).
Two other relays, the 200 and 800 freestyles, also garnered All-American accolades with fifth-place finishes. The 200 free relay team consisted of Jucha, McCarthy, Powell and Derek Underwood. The 800 free relay squad included Pearson, Hunter, Steve Clifford and Kevin Paavola.
Belowich's seventh season at the Carnegie Mellon helm has been the most successful. Men's and women's victories over Westminster College in January gave Belowich his 100th victory at Carnegie Mellon. The men's team went undefeated for the fourth consecutive year and placed second at the University Athletic Association Championship meet behind Emory. McCarthy, who won four events in the league meet, was named the UAA Swimmer of the Year for the third time in his career.
Belowich is in his 20th year as a collegiate head coach. Prior to coming to Carnegie Mellon, he was the head women's coach at the University of Pittsburgh, where he guided the Lady Panthers to nine consecutive Big East Championships, producing 47 conference champions and 13 All-Americans, including 1984 USA Olympian Sue Heon.
Under Belowich, Carnegie Mellon's swimming program has been successful in the pool and classroom. For 13 consecutive semesters, both the men's and women's teams have earned Academic All-America recognition by virtue of their aggregate grade-point average. The women's team was the top academic squad in NCAA Division III and second in all divisions last semester with a 3.590 GPA.
Brian Rose