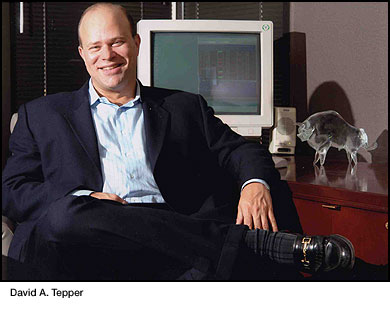 David A. Tepper (MBA '82) Donates Record $55 Million to Graduate School of Industrial Administration
Business School Becomes David A. Tepper School of Business at Carnegie Mellon
Wall Street investor David A. Tepper and his wife, Marlene, have donated a record $55 million to the Graduate School of Industrial Administration. The gift is the largest donation to Carnegie Mellon University in its 104-year history and the second-largest "naming gift" made to a business school in the United States. In recognition of this transformational gift, the school, which pioneered an analytical approach to management, will become the David A. Tepper School of Business.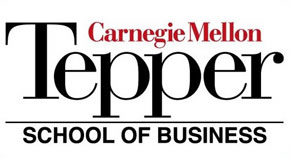 Tepper, 46, is president and founder of Appaloosa Management, a $3 billion hedge fund investment firm based in Chatham, N.J. He earned a master of science in industrial administration from Carnegie Mellon in 1982 before embarking on a successful career in business and finance. "The outstanding education I received at Carnegie Mellon gave me the ability to analyze investment options in such a unique way that I am still capitalizing on what I learned there to this day," said Tepper. "I owe a lot to my former professor, Dean Ken Dunn, and the rest of the faculty. This gift is an investment in the legacy the school has already built and a vote of confidence in the future of the Tepper School of Business."
"We are extremely grateful to David and Marlene for their generosity," said Jared L. Cohon, president of Carnegie Mellon. "This gift will help propel the university and the business school to even greater success and global leadership. David is of one of our outstanding alumni, and it is an honor to have him recognize the university in this extraordinary way."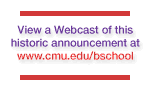 Kenneth B. Dunn, dean of the Tepper School of Business at Carnegie Mellon, added, "From the business school's inception, Carnegie Mellon's approach has provided a first-of-its-kind academic experience at the frontier of management education. There is an energy here brought about by new ideas, collaboration and intensity that you can't find other places. The Teppers' donation provides a transformational opportunity for the school to remain at the intersection of business and technology and to anticipate and respond to the dynamic needs of the global marketplace.
"We know students are best prepared for success in business if they develop strong analytical decision- making skills, and David Tepper is a perfect example of the kind of achiever we seek to educate at Carnegie Mellon," said Dunn. "We recognize that the needs of business have shifted, and today's business schools need to respond to expectations that are higher than ever before. We always have focused on preparing executives for a changing marketplace by immersing them in interdisciplinary environments that reflect emerging industries and functions. As we pursue new ways to prepare students to lead at the convergence of global business and technological change, this gift allows us to implement our vision for the future of business education on a more aggressive timeline."
The school will use $5 million of the gift to retain and attract leading professors to its world-class faculty; enhance the student experience; continue its tradition of academic innovation; develop value-added, lifelong learning opportunities for alumni; and advance the school's visibility. The remaining $50 million will be added to the business school's endowment, increasing it to $137 million, to build a strong financial base for future generations of students.
Tepper has been heralded in the financial press as one of the leading investors on Wall Street. Before founding Appaloosa Management, he was the head trader in the high yield department at Goldman Sachs. Born in Pittsburgh, Tepper now lives in New Jersey with his wife and three children.
In recognition of the historical significance of the school and with gratitude for the school's founder and its new namesake, the formal name of the school will become the David A. Tepper School of Business, William Larimer Mellon, Founder.
Founded in 1949 by William Larimer Mellon as the Graduate School of Industrial Administration, the school is a pioneer in the field of management science. With a reputation for management science and analytical decision making, its groundbreaking curricula is the basis for many business and academic models throughout the world. The school's notable distinctions include a faculty that consistently produces ground-breaking research published in leading academic journals and a unique contribution to the intellectual community including four Nobel prizes. More information on the school and its programs can be found at www.cmu.edu/bschool.
Mike Laffin