Students Study Effects of Zero Gravity Aboard NASA's "Vomit Comet"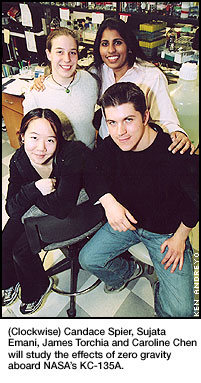 While some students spend their spring break on a hot, sandy beach, four undergraduate students in the Mellon College of Science will be testing their mettle on a NASA mission that may help identify the long-term health effects of zero gravity.
James Torchia, Sujata Emani, Caroline Chen and Candace Spier will be aboard the KC-135A aircraft conducting research to learn how different gravitational environments affect actin, part of the cell's inner scaffolding that appears to be vital to bone regeneration and immune system functions. Previous research suggests that astronauts returning from long space missions experience a loss in bone mass and bone density, and a decrease in their ability to fight infection. The students' research is part of the federal government's Reduced Gravity Student Flight Opportunities program.
"We are delighted that the students initiated the project and that their experiment was chosen to make the flight," said Elizabeth Jones, the Frederick A. Schwertz Distinguished University Professor of Life Sciences and head of the Biological Sciences Department. "We look forward to hearing about it when they return."
While aboard the KC-135A, better known as the "vomit comet," the student team, nicknamed "Team Conscius" after the Latin word for "to know," will push their bodies to the limit as the aircraft rushes upward 30,000 feet, plummets back to earth and pulls out of the dive in just enough time to send the aircraft heading upwards again. About one hour and 30 of these wave-like maneuvers later, the team not only will have been on the roller-coaster ride of a lifetime, but they also will have completed a set of critical scientific experiments to determine how altered gravitational environments affect actin.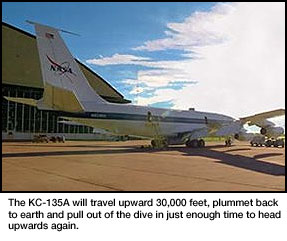 Before boarding the KC-135A, the students will undergo physical training and orientation at NASA's Johnson Space Center in Houston, Texas. For three of the four students, this project is an extension of their thrill-seeking nature. Torchia is testing for his pilot's license. Spier is an avid skydiver, and Emani has dreams of being an astronaut. Chen hopes to conduct the research while medicated with Dramamine.
With their feet strapped down to the floor of the aircraft and with only 30 seconds of weightlessness to carry out an experiment, the team will stimulate neutrophils, immune cells, to begin forming actin. After time intervals of 5, 10 and 15 seconds of microgravity exposure, they will fix the cells in a chemical to stop cellular growth. On the ground at the Johnson Space Center, team members will conduct a similar experiment to determine how actin assembles under Earth's normal gravitational pull.
After returning to Pittsburgh, the team will expose the cells to a fluorescent marker that binds to actin. Using flow cytometry and fluorescence microscopy, the students will determine how much actin assembled in the cells under the different gravitational conditions and will investigate what effect these gravitational conditions had on cytoskeletal organization. Their results ultimately could provide clues to why space travel exerts debilitating effects on humans.
Much of the preliminary work for the mission has been done at Daniel Johnson's lab at the University of Pittsburgh Cancer Institute. An educational grant from the Howard Hughes Medical Institute is helping to underwrite some of the students' expenses.
The students have been consulting with Frederick Lanni and Adam Lindstedt, associate professors of biological sciences, Lynn Walker, assistant professor of chemical engineering, and Philip LeDuc, assistant professor of mechanical engineering. They are also working with the Pennsylvania Governor's School for the Sciences to design a course on astrobiology, and the Center of Life, a nonprofit organization dedicated to revitalizing Hazelwood, a depressed area of Pittsburgh.
"We'll be working with underprivileged high school and middle school students to give them first hand exposure to both the excitement and practicality of science, unique opportunities they would normally not have," said Torchia, a senior biology major.
"We wanted to do this for fun, but we're also interested in the research," Emani said. " Our goal is to publish our findings, have our research recognized by NASA and to have them study it further."
For more on the KC-135A and the Reduced Gravity Research Program, visit http://jsc-aircraft-ops.jsc.nasa.gov/kc135/index.html
For more on Team Conscius, visit http://www.andrew.cmu.edu/~jat/conscius.htm
Amy Pavlak