Astronaut, Baseball Great Highlight Black History Month Activities
Carnegie Mellon is celebrating Black History Month with a month-long series of events, discussions and exhibits. Highlighting the activities next week are lectures by Sean Gibson, great-grandson of legendary baseball player Josh Gibson, and Mae C. Jemison, the first African American woman in space.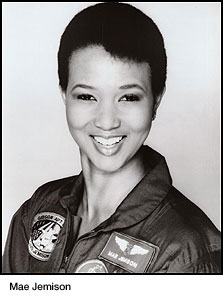 Sean Gibson, great-grandson of legendary baseball player Josh Gibson, will be presenting "Negro Baseball League History Featuring Josh Gibson" from 6:30 to 8 p.m., Feb. 17, 2004, in the Connan Room, UC.
As early as age 16, Josh Gibson had made a name for himself in amateur baseball leagues. When he was 18 he joined the powerful Homestead Grays of the Negro National League and, by his 30s, was reported to be the greatest batter and homerun hitter of all time. Gibson died at a young age, just three months before Jackie Robinson broke the race barrier and entered major league baseball.
Inspired by the memory of his great-grandfather, entrepreneur Sean Gibson teamed up with his grandfather Josh Gibson, Jr to create the Josh Gibson Foundation. The goal of the foundation is to provide youth with greater access to education resources, scholarships, support services and training.
Gibson's lecture is free and open to the public.
On Wednesday, Feb. 18, Jemison will be on campus to discuss "From Africa to Outer Space: Exploring the Frontiers of Science and Human Potential." Jemison served as a NASA astronaut for six years, orbiting space aboard the Endeavour and conducting experiments in life and materials sciences. Although no longer with NASA, Jemison runs her own medical technology business, called BioSentient Corporation, that develops and markets mobile equipment worn to monitor the body's vital signs and train people to respond well in stressful situations. BioSentient is part of The Jemison Group, Inc., which was established to focus on the integration of science and technology into everyday life. In addition to her two companies, Jemison also founded "The Earth We Share" (TEWS), an international science camp for students to come together and attempt to solve current global dilemmas.
Jemison's lecture takes place from 4:30 to 6 p.m. in McConomy Auditorium, University Center (UC). A reception will follow in the Schatz Dining Room. Tickets are free and will be available for Carnegie Mellon students, faculty and staff beginning Monday, Feb. 16, at the UC Information Desk.
The following events are also scheduled throughout February.
February 17-27: Out of the Scrap Bin Exhibit
Elizabeth Asche Douglas's exhibit "Out of the Scrap Bin" will be on display 10 a.m.-5 p.m. in the UC Art Gallery. An opening reception will be held for the exhibit from 3 to 5 p.m. Tuesday, Feb. 17.
February 19: Genealogy Workshop, 12:30-1:30 p.m.
The Afro-American Historical & Genealogical Society will host a Genealogy Workshop in the Connan Room of the UC. Vicki Betsill and Barbara Minor will lead the session.
February 26: Drum and Dance Performance, 6-7 p.m.
ReSunSum African Drum and Dance. McConomy Auditorium, UC.
February 27: Jazz Club Night, 7-9 p.m.
Saxophone player and jazz musician Kenny Blake will perform and have an open jam session in Rangos Ballroom, UC.
For more information on Black History Month, including a complete list of all events, visit http://www.studentaffairs.cmu.edu/multicultural/blackhistory.cfm or contact Emily Half at 412-268-2075 or ehalf@andrew.cmu.edu.