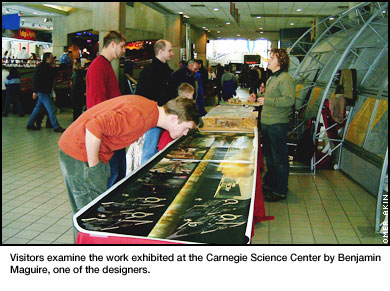 Architecture Students Redesign Carnegie Science Center
A dozen fourth-year architecture students put their talents to the test in a recent competition sponsored by the Carnegie Science Center, the most visited unit of The Carnegie system. The task: redesign the center maximizing efficiency for both visitors and occupants.
Eight outstanding proposals were developed and recently reviewed by a jury of architects and experts, including Thomas Flaherty, director of exhibits at the Science Center, and Vivian Loftness, head of Carnegie Mellon's School of Architecture. Loftness is a member of the center's technical jury.
Loftness said the student designs were some of the best she's seen. Flaherty agreed and chose to exhibit the students' proposals in the Carnegie Science Center lobby in late January.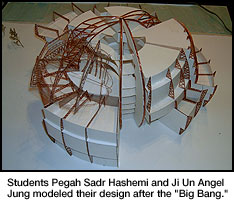 All of the proposals expanded the building facility to three times its current size adding much needed lobby space, educational facilities and exhibit prep and display facilities. They preserved the most popular features such as the Omnimax Theater, Sports Works and the Planetarium.
The projects stirred up a great deal of interest among the visitors to the center throughout the day. Children marveled at the skill with which some of the models were constructed, while their parents wondered if any of the projects would be built. Many visitors, including some architects and building professionals, suggested that the work was as good if not better than that of some professionals.
Architecture Professor Omer Akin, who teaches the course "Architecture Design and Occupancy," said this was one of the best studios he's taught in his long career at Carnegie Mellon. He explained that a mission of the studio was to explore appropriate concepts that signify the "wonder of science and exploration."
One team of students modeled the form of their building after the "big bang." The design created the impression that building fragments, rapidly expanding from a common core, were arrested in mid-space. Another team used objects in orbit around the planet Earth as a metaphor for their proposal. Akin said several others used the neighboring fabric of buildings in downtown and the North Side to create dynamic and exciting geometry of building planes intersecting at acute angles.
"The students really put their heart into the work. They worked with passion. I'm so proud of them," Akin said.