"The Rise and Fall of the City of Mahagonny" To Be Performed in a Pittsburgh Debut
Carnegie Mellon's leading schools of Music and Drama will present the Pittsburgh premiere of Kurt Weill and Bertolt Brecht's "The Rise and Fall of the City of Mahagonny" Jan. 29 - Feb. 1, in the Philip Chosky Theater in the university's Purnell Center for the Arts.
Show times are 8 p.m., Jan. 29, 30 and 31, and 2:30 p.m., Feb. 1.
"The schools of Music and Drama view the upcoming production of 'Mahagonny' as a unique opportunity for mutual artistic enrichment and collaboration," said Elizabeth Bradley, head of the School of Drama. "The distinctive strengths of each school contribute to the realization of a project of great ambition and relevance. 'Mahagonny,' a Pittsburgh premiere, is one of the seminal music theatre works of the 20th century."
"The Rise and Fall of the City of Mahagonny," which combines classical, jazz and folk elements, premiered in Germany in 1930. The opera was then banned by the Nazis, and was not produced again in Germany until the 1950s. In the city of Mahagonny profit and pleasure are the ultimate pursuits, and the implications for a society organized on this value system are the overarching theme of the opera.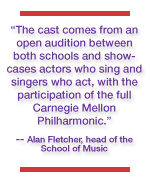 "This historic production brings together the world-renowned strengths of the schools of Drama and Music in a unique theatrical piece chosen for its combination of musical and dramatic challenges," said Alan Fletcher, head of the School of Music. "The cast comes from an open audition between both schools and showcases actors who sing and singers who act, with the participation of the full Carnegie Mellon Philharmonic."
Musical direction and preparation are in the care of the School of Music's faculty and graduate students led by Robert Page, the Paul Mellon Professor of Music. Direction, design, staging and production are supervised by the School of Drama's faculty, staff and students led by Gregory Lehane, professor of directing.
Tickets are $15 for general admission, $10 for students and can be purchased at the School of Drama box office at 412-268-2407.
For more, including cast members, visit http://www.cmu.edu/PR/releases04/040107_mahagonny.html


Eric Sloss