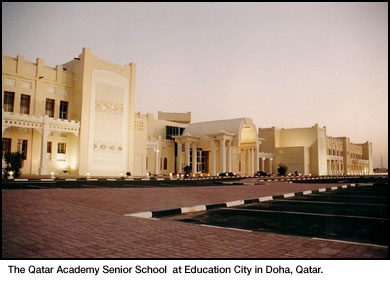 Carnegie Mellon To Develop Business, Computer Science Programs for Branch Campus in Qatar
Carnegie Mellon University officials have announced that the university has entered into an agreement with the Qatar Foundation to offer its highly ranked undergraduate programs in computer science and business at a branch campus in the Qatar Foundation's Education City.
The new campus in the Arabian Gulf nation will be called Carnegie Mellon University in Qatar. It will offer programs leading to Carnegie Mellon degrees based on the same admission standards and curricula as its main campus in Pittsburgh, Pa.


"The education development in Qatar presents us with an extraordinary opportunity to make contributions to the region and to the world that are important and lasting. This initiative will also advance significantly our strategic priority of internationalizing Carnegie Mellon," said University President Jared L. Cohon. "We salute the Qatar Foundation and the leadership in Qatar for their vision and for their commitment to education."
Qatar is located on the Arabian Peninsula. The Qatar Foundation for Education, Science and Community Development is a nonprofit organization founded in 1995 by the Emir of Qatar, His Highness Sheikh Hamad bin Khalifa Al-Thani, to support development of quality human resources through centers of excellence in education, research and technology.
Her Highness Sheikha Mozah Bint Nasser Al Missned, chair of the Qatar Foundation, stated, "We are delighted to welcome Carnegie Mellon to take its place in Education City and work with us in achieving our vision of utilizing the potential of every individual. We recognize that the creativity of the individual is the driving force behind the creativity of a progressive community. Harnessing this inventiveness is the starting point in shaping our global environment into a knowledge-based society that is both humane and highly developed. This partnership between the Qatar Foundation and Carnegie Mellon opens another network of communication across civilizations that allows us to transcend geographical and cultural barriers in the pursuit of the common human aim of sustaining healthy societies based on knowledge, prosperity and equality."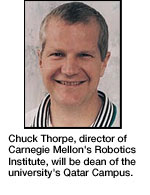 With this agreement, Carnegie Mellon will become part of the 2,400-acre, multi-institutional Education City in Doha, Qatar's capital. Education City is the largest, comprehensive world-class campus established in Qatar and the region. The goal of Education City is to create a new culture of excellence to meet the challenges of the new millennium, said foundation officials.
Carnegie Mellon joins other institutions such as Cornell University, Texas A&M University and Virginia Commonwealth University in Doha. As with these other programs, all costs associated with the development of the Carnegie Mellon campus are being borne by the Qatar Foundation.
In Qatar, Carnegie Mellon expects to enroll a first class of 50 undergraduates (25 in each degree program) by fall 2004. Carnegie Mellon officials also plan to grow enrollment slowly as is the practice in Pittsburgh, with only about 50 students enrolling annually in each degree program by 2014. Charles E. "Chuck" Thorpe, one of the world's leading robotics researchers and current director of Carnegie Mellon's Robotics Institute, will become the first dean of the university's campus in Doha.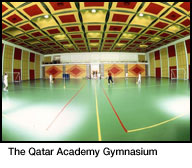 "Carnegie Mellon made its reputation as one of the nation's best institutions — particularly in the fields of computer science and business — with interdisciplinary collaboration. We are pleased to offer two of our best programs to a new audience in an important part of the world," said Carnegie Mellon Provost Mark Kamlet.
"This is a wonderful opportunity for Qatar and for Carnegie Mellon, and I am delighted to be a part of it. My whole family is excited about moving to Doha and helping to start this new campus," Thorpe said.
Carnegie Mellon's programs in business, information technology and computer science are among the best in the United States, according to many sources, including U.S. News & World Report and Business Week magazines and the Financial Times newspaper.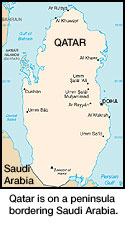 The Qatar Foundation's Education City will be home to the university's second branch campus. Carnegie Mellon's other branch campus is in Silicon Valley, Calif., where master's programs in information technology are offered. The campus at Moffett Field in Mountain View, which is home to NASA Ames Research Center, also supports research in high-dependability computing.
Carnegie Mellon has other significant international programming. Carnegie Mellon offers master's degree programs in Greece, Korea, South Africa, England, Germany, Singapore and Switzerland. The university also has formal educational partnerships in Taiwan, India, Brazil and Mexico, as well as distance-learning arrangements and traditional graduate and undergraduate student exchange programs with the United Kingdom, the Netherlands and many other countries.

For more on Carrnegie Mellon's Qatar campus visit www.cmu.edu/qatar/
About Carnegie Mellon: Carnegie Mellon is a private research university with a distinctive mix of programs in computer science, robotics, engineering, the sciences, business, public policy, fine arts and the humanities. More than 8,000 undergraduate and graduate students receive an education characterized by its focus on creating and implementing solutions to solve real problems, interdisciplinary collaboration and innovation. A small student-to-faculty ratio provides an opportunity for close interaction between students and professors. While technology is pervasive on its 110-acre campus, Carnegie Mellon is also distinctive among leading research universities because of conservatory-like programs in its College of Fine Arts. For more information, visit www.cmu.edu.

About the Qatar Foundation: The Qatar Foundation for Education, Science and Community Development is a private, nonprofit-chartered organization founded in 1995 aiming to develop and utilize human potential through a network of centers and campuses. In 1997 the Foundation set out on a strategic plan to create an Education City that is composed of a number of research centers, branch campuses of world-class educational institutions, and a Science Park that acts as an incubator for research, responds to the immediate needs of industry, and anticipates future necessities for development. In October 2002, Education City was officially inaugurated and now is home to various universities and research centers. For more information, visit www.qf.edu.qa/.
Staff Opportunities in Qatar: Carnegie Mellon is seeking staff to provide administrative support to the university's campus in Doha, Qatar. Those interested should attend an orientation session at 3 p.m., March 2, in Whitfield Hall, 143 N. Craig St. For more visit http://hr.web.cmu.edu/jobs/qatar.html


Teresa Thomas