University Celebrates Life and Work of Dr. Martin Luther King Jr.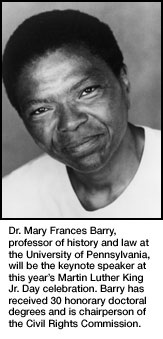 Carnegie Mellon will host numerous events designed to stimulate discussion and reflection on diversity and civil rights on Monday, Jan. 19, in celebration of Martin Luther King Jr. Day. Classes are cancelled from 12:30 p.m. to 4:30 p.m. to allow students, faculty and staff to attend and participate in the day's activities.
President Jared L. Cohon's annual "State of Diversity" address will open the celebration at 12:30 p.m. in Rangos Hall. The president, chairman of the university's Diversity Advisory Council, will review the progress Carnegie Mellon has made toward its goal of increasing diversity across campus and outline next steps in the process.
Following a full afternoon of programming (see schedule), which includes presentation of the Martin Luther King Jr. Day Writing Awards, a panel discussion, artistic presentations and performances, and a candlelight vigil, civil rights leader Dr. Mary Frances Berry will give the keynote address, "Where Do We Go from Here? Human Rights in Crisis Times."
Berry is the Geraldine R. Segal Professor of American Social Thought at the University of Pennsylvania, where she teaches history and law. In 1980, U.S. President Jimmy Carter appointed her to the U.S. Commission on Civil Rights. After President Ronald Regan fired her for criticizing his civil rights policies, she sued him and won reinstatement in federal district court. In 1993 President Bill Clinton designated her chairperson of the Civil Rights Commission. She was reappointed in January 1999.
For more on Berry and the day's schedule of events, see http://www.studentaffairs.cmu.edu/mlk/
Susan Cribbs