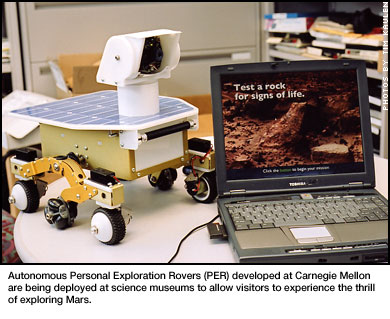 Carnegie Mellon's Smart Robots Give Museum Visitors a Taste Of Exploring Mars
As NASA's twin robot geologists Spirit and Opportunity explore the planet Mars, a cadre of 20 smart robots developed by researchers at Carnegie Mellon University are being deployed at some of the nation's most prestigious science museums to allow visitors to experience the thrill of exploring the red planet.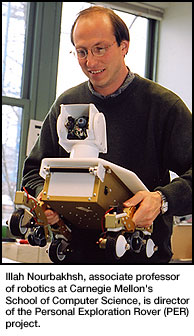 The Personal Exploration Rovers (PERs), developed with support from NASA and Intel Corp., are residing in "Mars Yards," specially designed to mimic Martian terrain at the Smithsonian's Air and Space Museum in Washington, D.C.; its new Udvar-Hazy Center at Dulles International Airport; the National Science Center in Augusta, Ga.; The San Francisco Exploratorium; and the new visitor's center at NASA's Ames Research Center at Moffett Field, Calif. The first exhibit opened at NASA Ames in late December. The others will follow this month.
NASA's Mars Exploration Rovers (MER) are part of a long-term effort of robotic exploration of the red planet. The current 90-day mission on Mars is to perform on-site geological investigations in an effort to search for clues to past water activity.
While the Mars Exploration Robots (MER) will be looking for water history, museum visitors interacting with the PERs will be able to search the Mars Yards' rocky landscapes for organo-fluorescent evidence of life.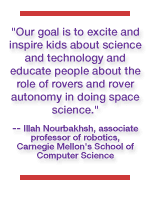 "Our goal is to excite and inspire kids about science and technology and educate people about the role of rovers and rover autonomy in doing space science," said project director Illah Nourbakhsh, associate professor of robotics at Carnegie Mellon's School of Computer Science. "We want people to understand why it's important for the rovers to be smart."
"With the Personal Exploration Rover, students can learn how robots interact with the world and see for themselves how the future might look as we have more and more robots helping us in our everyday life," said G. Scott Hubbard, director of NASA Ames Research Center.
While each museum's exhibit is unique, they all contain one or more Mars Yards populated by rovers. The identical rovers are 1.2 feet-tall, weigh 10 pounds and can move 1.6 inches per second. They have mobility systems similar to that of Spirit and Opportunity.
"The Personal Exploration Rover is part of a larger project to develop low-cost robotic devices that can be used in education, science museums and the home," said Daniel Clancy, director of information sciences and technology at NASA Ames. "In future holiday seasons, you will be able to bring one of these home for your kids. The robot will be able to move around your house, take pictures, interact with your dog and do other tasks. It's really about the whole creative process and exploring how you can program a device to do interesting tasks," he said.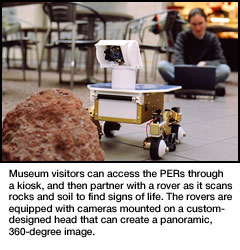 As part of robotics research activities by Intel Research, the PERs are powered by Intel® XScale® technology using Intel® PXA255 processors, which provide high system performance and low power consumption. The rovers run the Linux operating system and are programmed in Java.
Visiting "mission scientists" will access the PERs through a kiosk, and then partner with a rover as it moves through the yard, scanning rocks and soil to find signs of life. The rovers are equipped with cameras mounted on a custom-designed head that can create a panoramic, 360-degree image. It also can detect obstacles using an optical rangefinder.
Once a panorama is downloaded from a PER, "scientists" can choose a rock to test. They estimate rover heading and distance to reach the rock. The rover then autonomously traverses the Yard following the "scientist's" directions safely while continually checking for unexpected obstacles. After reaching the goal location, the PER scans the area and autonomously locates, then approaches the target rock. The PER then illuminates the rock with ultraviolet light to look for signs of organo-fluorescence to provide scientific data.
The PER project is funded as part of a four-year, $150,000 annual education grant from NASA to develop educational robots. It is supported through the NASA Ames Intelligent Systems Program and Intel.
For more information on Carnegie Mellon's personal rover project, see http://www.cs.cmu.edu/~personalrover/ and for more information on Carnegie Mellon's PER section, go to http://www.cs.cmu.edu/~personalrover/PER/index.html.
For more information on NASA's Mars Exploration project, see http://mars.jpl.nasa.gov/mer.
Anne Watzman