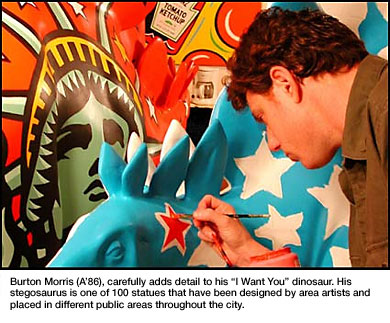 Alumni Help Turn Pittsburgh into "DinoBurgh"
As part of it's DinoMite Days, the Carnegie Museum of Natural History turned 100 dinosaur statues loose in Pittsburgh this summer in a once-in-a-lifetime event that the museum says will "transform the city into the world's largest Jurassic art park." DinoMite Days is intended to celebrate Pittsburgh's international reputation for scientific excellence while showcasing established and emerging artists.
The free outdoor exhibition features 200- to 500-pound fiberglass dinosaurs that have been carefully decorated by area artists and students. Their creations will be on display in public plazas, on the streets and in front of buildings throughout the city until this October, when they will be sold at an auction.
Below is a list of the alumni who designed a statue for the dino days of summer. Click on each link to see both a photo of the dinosaur and a detailed description of the artist's inspiration for the project.
Lucia Aguirre (A'01) and Anne Savage
"Intrados: Pittsburgh's 'Urban' Dinosaur"
Barbara Anderson
(the Bessie Anathan Professor in the School of Drama and CFA Associate Dean)
"Torosaurus as George Washington in the French and Indian War"
Rick Antolic (A'93), and Cathy and Mark Klingler (A'90)
"Pitt-sanky"
Mark Baugh-Sasaki (A'03) and Andrew Klein (A'03)
"Renewalsaur"
Patricia Bellan-Gillen (A'79)
"Connections"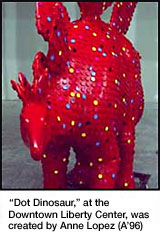 JoAnna Commandaros (A'86)
"Shaggy Recycleosaurus"
Jonathan Kline (A'98 and faculty in the School of Architecture)
"An Ecological History of Pittsburgh"
Anne Lopez (A'96)
"Dotted Stegosaurus"
Burton Morris (A'86)
"I Want You"
"Liberty"
Untitled Torosaurus
David Seaman (A'81)
"Dinosurgeon"
Ruth Stanford (A'03)
"TOPOsaurus PA"
James Thurman (A'93) and Ray Masters
The Anti-Asteroid Suit
Lauren Urbschat (A'02), and Jennifer Zimmerman
"Florasaurus"
Laura Wilson (A'87)
"Stegosaurus en Toile"
Shirley Yee (A'76)
"Lost Pittsburgh"
Kathryn A. Borland (A'87)
"Neighborsaurus 123 (I Love You)"
Patricia Calderone (A'79, HNZ'90)
"The Burghosaurus"
DinoMite Days is sponsored by the Carnegie Museum of Natural History, home of the world's third-largest collection of dinosaur fossils, and is made possible through the financial support of numerous foundations and companies.


Susan Cribbs