Entertainment Technology Center Hosts International Conference on Entertainment Computing
Carnegie Mellon University's Entertainment Technology Center (ETC) and the Art Institute of Pittsburgh are co-sponsoring the second International Conference on Entertainment Computing (ICEC), May 8-10, at the University Center.
Speakers and discussion groups will cover topics including computers and home/arcade games, virtual worlds and interactive environments, entertainment robots and physical systems, music informatics, and the social and psychological aspects of entertainment.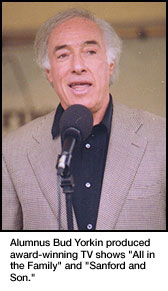 "The ETC is spawning the next generation of creative genius in interactive, multimedia entertainment," said Don Marinelli, co-director of the center. "Unlike any other institution in the world, Carnegie Mellon is uniquely poised to offer top-drawer leadership and talent to students in a program that requires a melding of arts and computer science. Entertainment technology has applications ranging from gaming to theme parks to film-making—at this point it's larger than the movie industry."
A special session, Transformations in Hollywood: How Technology has Changed the Face of Film, Television, Music, and Sports Entertainment, will be held in the Carnegie Museum of Art screening room at 7:45 p.m., Friday, May 9.
The panel will feature Carnegie Mellon alumni Barry Frank, president of the sports management firm International Management Group; Gary Smith, Emmy Award-winning producer and director of four Democratic National Conventions and six Tony Award telecasts; Robert Summer, chairman of the board of World Theatre; and Bud Yorkin, former partner with producer Norman Lear on "All in the Family" and "Sanford and Son," currently producing a follow-up to the film, "Blade Runner."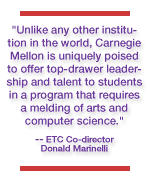 Other featured keynote speakers include Barry Armour, head of technical directors at Lucas Digital/Industrial Light & Magic; Ed Covannon, senior research scientist with Eastman Kodak; Clark Dodsworth, an interactive product development consultant, and editor of "Digital Illusion: Entertaining the Future with High Technology"; Chris Klug, a freelance computer game designer whose client list includes SegaSoft, TSR, Hasbro, THQ, Simon and Schuster Interactive, and game credits include Star Trek DS9: Dominion Wars, Europa Universalis, Duke Nukem: Time to Kill, Diamond Dreams Baseball, and Aidyn Chronicles; Robert "Bob" Legato, Academy Award winner and a team leader in director James Cameron's Digital Domain.
Carnegie Mellon's ETC links art and technology in a master's program offered jointly by the College of Fine Arts and School of Computer Science. Students learn computer animation and how to generate computer effect and also study improvisational acting, game design, Building Virtual Worlds and elective topics ranging from artificial intelligence and general robotics to electronic and computer music and film editing.
ETC hosts a global cadre of students, from Colombia, China, Hong Kong, Japan, the Philippines and Taiwan, aspiring to be the next Steven Spielberg or George Lucas. Begun in 1998, its pilot class comprised eight students who have accepted job offers as production software engineers, game programmers, researchers, consultants and instructors, with an average starting salary of $60,000.
Conference registration and a complete schedule of events are available at www.etc.cmu.edu/icec2003.


Eric Sloss & Lisa Kirchner