Grad Student Appreciation Week Focuses on Teaching, Research and Service
Carnegie Mellon will join university and college campuses nationwide in celebration of National Graduate and Professional Student Appreciation Week (April 7-11), established by Pennsylvania State Representative Dan Frankel. Sponsored by the National Association of Graduate-Professional Students (www.nagps.org), the week is designed to recognize graduate student contributions to research, teaching and university life.
Carnegie Mellon will focus on the accomplishments of graduate students through departmental receptions, luncheons, seminars and award ceremonies.
"We encourage all Carnegie Mellon community members to consider ways in which they might recognize the vital role grads play within the university," said Nancy Klancher, director of graduate programs.
Schlimm, Pressman Earn Teaching, Service Awards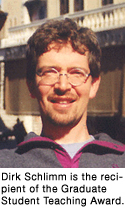 Dirk Schlimm, a Ph.D. student in the Department of Philosophy, and Sarah Pressman, a third-year grad student in the Psychology Department, received this year's Graduate Student Teaching and Service Award, respectively, at an April 9 ceremony.
The teaching award recognizes exemplary teaching by graduate students in a number of settings, including classrooms, labs and studios. The service award honors a student who has advanced the interests of students, improved the quality of life for grad students on campus and who has contributed to the larger academic and surrounding community.
In a department where teaching isn't required every semester, Schlimm has eagerly accepted as much teaching as the department would give him. In his six years with Philosophy, he's been a teaching assistant for five different courses, taught three courses by himself and has taken at least a dozen seminars at the Eberly Center for Teaching Excellence. He's also successfully completed the Program for the Documentation of Teaching Development at the Eberly Center and created two training workshops for graduate students assigned to summer teaching in Philosophy.
Students found him accessible, engaging, funny and able to teach the material in a captivating way. Richard Scheines, associate head of Philosophy, said that Schlimm is "by far, the best teaching assistant/instructor we have had in the 17 years of the Philosophy Department's existence." He called him "a remarkable individual with truly wonderful dedication to teaching."
As the vice president for graduate student life on the executive committee of the Graduate Student Assembly (GSA), Pressman has been devoted to improving the quality of graduate student life on campus. She's organized events ranging from white water rafting to nights at the Pittsburgh Symphony, and plans numerous annual events like the graduate student ski trip to Seven Springs, the GSA wine-tasting event, outings to Kennywood and visits to Fallingwater. She also coordinates a barbeque cookout to welcome new students each fall, monthly ice cream socials and interdepartmental/college events that allow graduate students to mingle on campus.
"Sarah's unfailing enthusiasm and creativity has helped her not only dream up new and interesting activities for graduate students, but also to expand and refine traditions that had been established before her tenure," said Kimmaree Murday, the 2002 GSA president. "Thanks to Sarah's efforts, more and more graduate students are getting the information they need to make connections and lead a more balanced life."
Jana Asher and Design Team Cited for Research
When asked for examples of how graduate students have contributed to society through their research, Klancher cited the work of Jana Asher, a Ph.D. candidate in the Department of Statistics, and a team of design students.
Asher's collaboration with human rights activists and statisticians resulted in a report that was used in the war crimes trial of former Yugoslavian President Slobodan Milosevic. Asher and her team examined data and concluded that the statistical evidence was consistent with the Yugoslav forces' campaign of expulsions and killings in Kosovo in spring 1999, rather than the fault of NATO and Kosovo Liberation Army actions. An article on the report appeared in the March 22, 2002, issue of Science Magazine.
More than seven million copies of "A Customer's Guide to Mailing," a document created for the United States Postal Service by a team of graduate students in the School of Design, were printed in the fall of 2002. The 24-page guide, which explains mailing rules for household customers is the first to present mailing regulations visually. The next step for the team of four Ph.D. and 20 master's students, led by Professor Richard Buchanan and project manager Angela Meyer, will create a document for business and non-profit mailers.
Lazarus Honored for Supporting Grad Students
Barbara Lazarus, Carnegie Mellon's Associate Provost for Academic Affairs, received the Friend of Graduate and Professional Students Award at the 17th annual conference of the National Association of Graduate-Professional Students. Lazarus was honored for nearly 20 years of advocacy on behalf of graduate students, both nationwide and on the Carnegie Mellon campus.
Lazarus has been a member of the Carnegie Mellon faculty since 1985, and has studied and advocated for graduate students throughout her tenure. Her work has led to the university's recognition of graduate students as a group with needs distinct from those of undergraduates and the subsequent founding of the Graduate Student Assembly. Her most recent efforts have centered on expanding graduate students' access to health insurance in the face of rising premiums and departmental budget cuts.
Nationally, she is a recognized leader in the study of women and minorities in science and engineering education. She has written three books on the subject, the most recent being "The Women's Guide to Navigating the Ph.D. in Engineering and Science." Lazarus serves on a number of national advisory boards, including that of MentorNet (a national mentoring organization for undergraduates, graduate students, and postdoctoral fellows) and the Higher Education Task Force on Building Science and Engineering Talent (BEST).