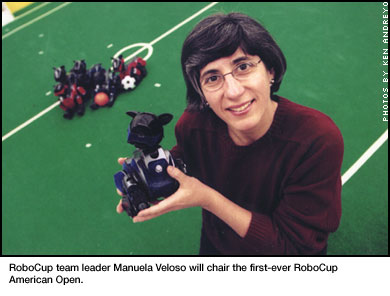 Carnegie Mellon to Host American Open in Robot Soccer; Honda's ASIMO Humanoid Robot to be on Display
More than 150 researchers, mostly from North and South America, and their autonomous, soccer-playing robots will meet at Carnegie Mellon University from April 30 to May 4, 2003, to compete in the International RoboCup Federation's first American Open. The tournament schedule is at http://www.ri.cmu.edu/events/a03invite.html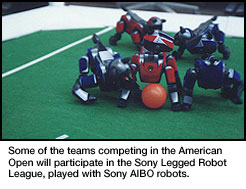 RoboCup is an international research and sports initiative founded to push the boundaries of science in artificial intelligence and intelligent robotics. The challenge is to create a team of fully autonomous soccer-playing robots that will beat the human world-champion soccer team by the year 2050.
This is only the second time in the RoboCup's seven-year history that a competition will take place in the Americas. RoboCup 2001 was held in Seattle and attracted 110 teams from 25 countries. Last year's international games, staged in Fukuoka, Japan, attracted teams from 29 countries and more than 117,000 spectators. This year, 390 teams are registered to play in Padua, Italy, July 2-12. See http://www.robocup.org.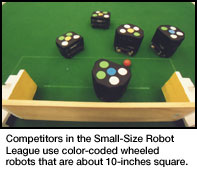 The teams that will meet at Carnegie Mellon come mainly from institutions in Canada, the United States, Puerto Rico, Mexico and South America. Some will compete in the Small-Size Robot League using color-coded wheeled robots about 10-inches square. Others will participate in the Sony Legged Robot League, played with Sony AIBO robots. Carnegie Mellon currently holds the world championship in the legged league. Participants in the Simulation League will play each other on computers while the action is broadcast for viewing on large overhead screens. Teams from as far away as China, Iran and Australia will be competing in the Simulation League.
There also will be a special competition and demonstration featuring urban search-and-rescue robots. This event will be staged in a two-story high disaster site created by experts at the National Institute of Standards and Technology and built by Carnegie Mellon scientists. The site will be housed permanently at the university, giving researchers a venue to work and experiment as they develop "a whole new species of robot" for search and rescue.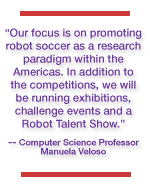 While the RoboCup competition is taking place, the university will also be hosting ASIMO, the world's most advanced humanoid robot, developed by Honda Motor Co., Ltd. ASIMO is currently visiting major cities across the U.S. on the "Say Hello to ASIMO" North American Educational Tour. The tour is meant to introduce the public to ASIMO and to encourage students to study robotics and science. ASIMO will be demonstrated for school children during the April 30 - May 3 visit. For more information about ASIMO and the North American tour, please visit http://www.asimo.honda.com.
More than a thousand middle and high school students from across Western Pennsylvania are expected to visit the university to see the robot soccer matches, meet ASIMO and attend demonstrations of various other robots.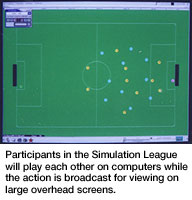 The American Open and visit from ASIMO will be open to the public on May 2, 3 and 4. See the Web site for events and times. The American Open is chaired by Computer Science Professor Manuela Veloso, who is also a vice president in the International RoboCup Federation. She noted that the American Open is one of four such events taking place worldwide.
"Our focus," she continued, "is on promoting robot soccer as a research paradigm within the Americas. In addition to the competitions, we will be running exhibitions, challenge events (challenging problems for single robots or small teams) and a Robot Talent Show."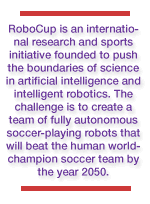 Veloso is currently working with her colleague Brett Browning, a systems scientist in the Robotics Institute and an exceptional group of graduate and undergraduate students in the School of Computer Science, including Scott Lenser, James Bruce, Douglas Vail, Michael Bowling, Patrick Riley, Sonia Chernova, Maayan Roth and Allen Chang.
Carnegie Mellon, a pioneer in the development of soccer-playing robots to investigate team learning, has participated in the International RoboCup competition since its inception in 1997. Carnegie Mellon's soccer-playing robots have won several world titles in various leagues and were world champions in every league in which they participated in 1998.


American Open '03 Sponsors
American Honda Motor Company, Inc.
The Boeing Company
Carnegie Science Center
Coca-Cola
Comcast Cable Communications, Inc.
The Hillman Company
Intel Research
Mobot Robotics LLC
Parkhurst Dining Services
Pittsburgh Technology Council
PNC Bank, a member of The PNC Financial Services Group, Inc.
RoboCup Federation
Sony Entertainment Robot America
Westinghouse Electric Company

Friends of RoboCup American Open '03

Deborah Kelly & Mahadev Satyanarayanan
Dr. Joseph Pusateri, Jr.
John McCabe & Joseph Kelly (Derry)
Anne Watzman