Carnegie Mellon to Award Dickson Prize to Nation's Top Biomedical Engineer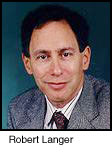 Carnegie Mellon University will award its prestigious Dickson Prize in Science to Robert S. Langer, a pioneering biomedical engineer, at 4:30 p.m., Wednesday, Feb. 26, in McConomy Auditorium in the University Center. This year's prize includes a cash award of $38,000.
Langer, the Kenneth J. Germeshausen professor of chemical and biomedical engineering at the Massachusetts Institute of Technology, has invented medical delivery technologies that prolong lives and ease the suffering of millions every year. His contributions are the cornerstone of the controlled drug delivery system, which is a $20 billion enterprise in the United States.
Langer's ongoing work involves developing new approaches for delivering drugs and creating new approaches to tissue engineering. His creative engineering of polymer plastics is now allowing delivery of medicine in innovative ways to difficult locations within the human body.
One of his biodegradable polymer inventions broke a 20-year drought in FDA-approved brain cancer treatments. It was the first such chemotherapy that could be delivered to a tumor site.
As part of the prize ceremony, Langer will deliver a lecture entitled "Biomaterials And How They Will Change Our Lives." The talk is free and open to the public.
"We are extremely fortunate to have such an excellent Dickson Prize awardee. He's been at the leading edge of biomedical engineering and his work is a great inspiration as Carnegie Mellon begins to grow its own efforts in similar areas," said Harry Paxton, professor of materials science and engineering.
The late Pittsburgh physician Joseph Z. Dickson and this wife, Agnes Fisher Dickson, established and endowed the Dickson Prize in Science in 1969. Carnegie Mellon awards the prize annually to individuals in the United States who make outstanding contributions to science.


Related Links:
Biomedical Engineering

Chriss Swaney
(02/20/03)