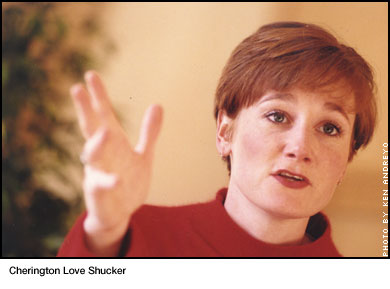 Luce Nominee Hopes to Advance Global Awareness, Prevention of HIV/AIDS
Cherington Love Shucker, a candidate for a master's degree in public policy and management, hopes to advance global efforts in HIV/AIDS prevention and policymaking by exploring Asian culture firsthand as a Henry Luce Foundation Scholar.
Shucker was the only Carnegie Mellon student nominated (by a university committee) to participate in the prestigious and highly selective Luce Scholars program, which provides stipends to young Americans to further their civic and professional goals by living and working in an Asian country for one year.
"Asia, for many reasons, is the next frontier for the HIV/AIDS pandemic and her response mechanisms will either chart the next big surge of infection or curb its impact," Shucker said. "An estimated six million people are infected with the HIV virus in China. As the executive director of UNAIDS has said, 'by not tackling it now, while it is still manageable, the epidemic will have far-reaching effects, destabilizing societies and damaging productivity.'"
As a Luce Scholar, Shucker says she plans to explore Asia's "societal constraints that I perceive are blocking an educational strategy that can protect precious human lives now being needlessly destroyed by a virus that is entirely preventable.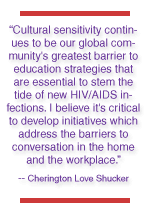 "Cultural sensitivity continues to be our global community's greatest barrier to education strategies that are essential to stem the tide of new HIV/AIDS infections," she said. "I believe it's critical to develop initiatives which address the barriers to conversation in the home and the workplace."
Shucker earned her bachelor's degree in journalism and mass communication at Samford University in Birmingham, Ala., and has also studied in Spain, Great Britain and Costa Rica. She served as vice president of development and public relations at the Urban League of the Upstate in Greenville, South Carolina, and as director of donor relations for the Greenville Symphony Orchestra.
Shucker completed a full-time graduate fellowship at Pittsburgh's Coro Center for Civic Leadership and was appointed by Jim Roddey, Allegheny County's chief executive, to work on the county's Drug and Alcohol Planning Council. This council implements and governs a legalized needle exchange program to curb the transmission of HIV and Hepatitis.
"Her long-standing interest in the deep importance of developing her own multi-cultural intelligence, as well as others, is consistently evident in her employment, affiliations, honors and academic study," said Nancy Klancher, director of the Graduate Programs Office and a member of the university's Luce Nominating Committee. "She is a leader poised to apply her years of this learning, as well as academic and extracurricular training, to the work she is determined to do in HIV/AIDS policymaking."
Shucker is advancing through the Luce Foundation's interview process and expects a final decision on her selection as a Luce Scholar later this spring.
"I believe that we are at a critical intersection in the path of Asian American relations," Shucker said, "and I am willing and able, to live, work and experience an Asian culture to gain a better understanding of the issues that continue to cost us precious lives."

(02/07/03)