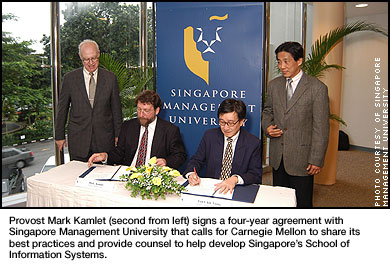 University Helps Develop Information Systems School in Singapore
Carnegie Mellon has agreed to use its expertise in information technology systems and business to help the Singapore Management University (SMU) develop its recently established School of Information Systems (SIS), with initial emphasis on an undergraduate business program.
The four-year agreement between the university and SMU calls for Carnegie Mellon to share its best practices and provide counsel to SIS's undergraduate program, its master's and executive education programs and the establishment of a research center.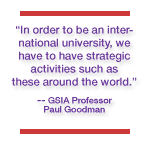 "Carnegie Mellon brings a wealth of educational experience, not only in technology and business programs for which it is renowned, but also in diverse disciplines such as fine arts, psychology, philosophy and biological sciences," said Steve Miller, SIS's interim dean. "SMU recognizes the value of providing our students with a cross-disciplinary educational experience. With this partnership, our ability to deliver such a cross-disciplinary experience will be greatly enhanced."
Miller is no stranger to Carnegie Mellon. He holds a Ph.D. in Engineering and Public Policy from Carnegie Mellon, and is a former faculty member of the Graduate School of Industrial Administration (GSIA).
Joining Miller for the signing of the memorandum of agreement were Carnegie Mellon Provost Mark Kamlet, Electrical and Computer Engineering Department Head Pradeep Khosla and GSIA Professor Tridas Mukhopadhyay.
Carnegie Mellon will work alongside SIS to develop the undergraduate program curriculum, faculty resources, and organizational and technological infrastructure. Carnegie Mellon will similarly share its expertise with regards to the planning, design and launch of the research center and the master's program.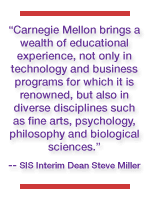 Both parties hope to expand the relationship in other areas such as the facilitation of student exchange programs, technology-related executive education programs and conferences, seminars and symposia on topics of mutual interest.
"We are excited about the opportunity to assist in the development of the new School of Information Systems at Singapore Management University," Kamlet said. "This joint partnership builds on the strengths of both Singapore Management University and Carnegie Mellon. The new school will be designed to help Singapore adapt to the changing world of information technology."
GSIA Professor Paul Goodman, who is responsible for coordinating the university's international educational relationships, said the relationship in Singapore will be an important one for the university.
"These are areas where we have obvious strengths," Goodman said. "In order to be an international university, we have to have strategic activities such as these around the world."
Goodman, the Richard M. Cyert Professor of Organizational Psychology and director of the Institute for Strategic Development, said Carnegie Mellon was particularly enthused to establish a relationship with such a rapidly rising university. SMU was established in January 2000.
"We appreciate this partnership and SMU's willingness to explore new ideas for education," he said. "Our international relationships allow us to, in part, explore alternative models for education that may work here."
SMU's fourth and newest school, the School of Information Systems, specializes in information technology (IT) as well as business management and policy-making related to the technology industry. Set up in response to the changing needs of the region's digital economy, the SIS will welcome its first students in August 2003.
SIS will have a cross-disciplinary approach, preparing sophisticated and flexible IT graduates who can interface between business and technology. Possible jobs include business analysts, product managers and planners, consultants, business systems architects, chief information officers, knowledge managers and policy analysts.
The SIS will be admitting 50-100 undergraduates in its first year of operation and by 2006 it is expected to hold a total of 550 undergraduates and postgraduate students. SMU also has a relationship with the University of Pennsylvania's Wharton School.


Related Link:
Singapore Management University

(01/29/03)