Internationally-Renowned Cellist to Speak at Carnegie Mellon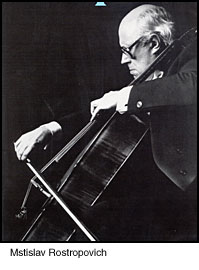 Carnegie Mellon's School of Music presents "A Conversation with Russian cellist Mstislav Rostropovich," at 2 p.m., Wednesday, Feb. 19 in McConomy Auditorium in the University Center. The conversation will include Ken Meltzer, of the Pittsburgh Symphony, and Alan Fletcher, head of the School of Music.
The dialogue will be accompanied with a performance by the Starling Quartet, the School of Music's honors quartet, featuring students Jan Fiser and Eunice Keem on violin, Virna Cornejo on viola, and Nicole Myers on cello. The event is free and open to the public.
Rostropovich, acknowledged internationally as the world's greatest living cellist, has inspired the world's leading composers to enhance the standard cello repertoire.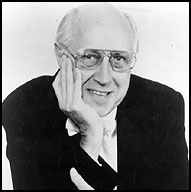 "Mstislav Rostropovich's Pittsburgh Symphony and Carnegie Mellon appearances are among his only U.S. appearances this season and represent a precious opportunity to hear one of the great musicians of our time," Fletcher said.
"This is a unique chance to hear him talk about the composers he knows better than anyone, to hear him address our students as the musicians of the future, and to hear his thoughts on the role of the artist in a troubled political world."
Rostropovich is one of the world's most outspoken defenders of human and artistic freedoms. He has devoted much time and has given numerous performances to support humanitarian efforts around the world. In 1990, after an absence of 16 years, he made a triumphant return to the Soviet Union with the National Symphony Orchestra of Washington, giving concerts in Leningrad to enormous acclaim.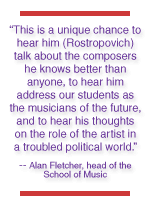 During the coup of August 1991, the strength of his attachment to his native Russia compelled him to fly, without a visa, to Moscow, to spend those momentous days in the Russian Parliament building and on the streets, where he was hailed as a national hero.
Rostropovich, who holds about 40 honorary degrees, has received more than 130 major awards from over 30 different nations.
Carnegie Mellon's School of Music is one of five schools in the College of Fine Arts. Carnegie Mellon's College of Fine Arts is a community of nationally and internationally recognized artists and professionals organized into five schools, Architecture, Art, Design, Drama and Music, and its associated centers and programs.


Related Links:
School of Music
Mstislav Rostropovich Biography

Eric C. Sloss
(02/13/03)