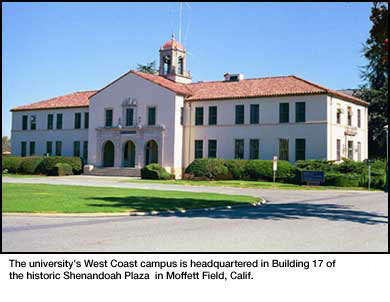 Carnegie Mellon and NASA Agree on Long-Term Lease For Space in Historic Buildings at Moffett Field
Carnegie Mellon and NASA have reached agreement on a long-term lease under which the university will renovate 19,000 square feet of space for its growing West Coast campus in Buildings 23 and 24 on the historic Shenandoah Plaza at Moffett Field, Calif.
The plaza is adjacent to NASA's Ames Research Center and is part of a 213-acre research park the agency is developing. The agreement states that the university may lease the buildings for 15 years and exercise additional options to bring the term of the lease up to 48 years.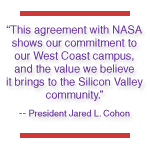 It also gives the university the right of first refusal to lease buildings 17 and 20 on the six-building quadrangle. The university's West Coast campus has been housed in Building 17 since 2001. Now, expanding educational and research programs require additional space. Building 20 was used as an officers club on the former naval base and could house 50 to 60 people, including students, visiting faculty and short-term visitors.
"This agreement with NASA shows our commitment to our West Coast campus, and the value we believe it brings to the Silicon Valley community," said Carnegie Mellon President Jared L. Cohon.
"We are delighted to sign this lease agreement with Carnegie Mellon University, one of the world's premier institutions of higher education, especially in the area of computer science," said NASA Ames Center Director G. Scott Hubbard. "This agreement marks a significant milestone in the evolution of the NASA Research Park. The combination of Carnegie Mellon University's high dependability computing research focus and its new information technology graduate program will serve to advance NASA's mission as well as set the stage for broader collaboration with Silicon Valley's high tech community," Hubbard added.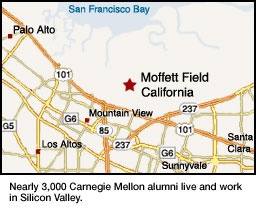 Plans call for the renovations to Building 23 and 24 to be completed this fall. Because several buildings in the 80-year-old Shenandoah Plaza have been placed on the historic register, renovations must comply with the State Historic Preservation Organization's guidelines. The renovation is being carried out by Turner Construction Co. of San Jose, Calif., with the architectural designs being created by the Architectural Resources Group of San Francisco.
Carnegie Mellon's West Coast campus opened for classes in September 2002, with 56 students enrolled in two programs leading to a master of science degree in information technology. The course of study is built around unique hands-on, project-oriented, apprenticeship-based and individually mentored activities that emphasize teamwork and collaboration.
The campus also has a research agenda based on high dependability computing. Carnegie Mellon received $23.3 million from NASA in January 2002 to lead the High Dependability Computing Project, a research consortium of five universities.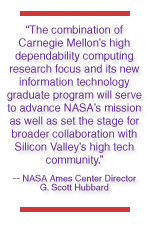 Since 1999, Carnegie Mellon has been working to develop a presence in Silicon Valley—to do research with NASA and Valley companies, establish educational programs, offer special internship and work opportunities to students on the Pittsburgh campus, and develop closer ties with the nearly 3,000 alumni who live and work in the Valley.
During this time, Carnegie Mellon officials also have been collaborating with officials at NASA's Ames Research Center as they developed plans for the research park at Moffett Field.
Late last year, Carnegie Mellon hosted a Founders' Day celebration to honor Silicon Valley leaders who have donated funds to support the establishment of the university's new West Coast campus. Founders include Chuck Geschke, Raymond J. Lane, Microsoft, Eric Schmidt, Sunil T. Wadhwani, C. Gordon Bell, David A. Coulter, Ali Kutay, Drew D. Perkins, Raj Reddy, Steve Wozniak, Andreas Bechtolsheim, Adam Beguelin, Scott Dietzen, Edward H. Frank, Mark S. Kamlet, James G. Mitchell, Gordon E. Moore, James H. Morris and E. Scott Russell.


Related Links:
Carnegie Mellon's West Coast Campus
NASA's Research Park
West Coast Founders' Day
Anne Watzman
(12/09/02)