Carnegie Mellon Celebrates Dr. Martin Luther King Jr.

Carnegie Mellon's annual celebration of the life and work of Dr. Martin Luther King Jr. will be held from 12:30 - 6:30 p.m., Monday, Jan. 20. Classes are cancelled from 12:30 - 4:30 p.m. that day to allow students, faculty and staff to participate in the programming.
President Jared Cohon will begin the events with his annual state of diversity address. The president, chairman of the university's Diversity Advisory Council (DAC), will review the progress Carnegie Mellon has made toward its strategic goal of increasing diversity across campus. He will also outline next steps in the process.
Following the president's talk, winners of The Martin Luther King Jr. Day Writing Awards will read their entries. The awards, sponsored by the Creative Writing Department, are presented to students from local high schools and Carnegie Mellon who have submitted creative works and personal narratives describing their experiences with racial difference and discrimination.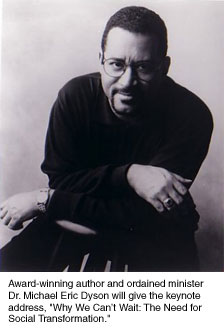 After the awards, a panel of civic leaders and members of the university community will discuss Dr. King's "Six Steps for Nonviolent Social Change." Moderated by Everett Tademy, the university's director of equal opportunity services and a member of the DAC, the panel will include Indira Nair, vice provost for education at Carnegie Mellon; Joe Trotter, director of the Center for Africanamerican Urban Studies and the Economy and head of the History Department at Carnegie Mellon; and Father Bryan Summers of the Roman Catholic Newman Center.
A puppet show for children will begin at 2 p.m. Individuals from the campus community will express their feelings about civil rights and diversity through artistic performance in the Community Collage beginning at 3:45 p.m.
The celebration continues at 4:30 p.m. with a candlelight procession from the Purnell Center for the Arts to the University Center, where Michael Eric Dyson will deliver the keynote address, "Why We Can't Wait: The Need for Social Transformation." Dyson is a noted scholar, author and ordained pastor widely recognized for his insight into urban black popular culture.
The following is a detailed look at the day's events.
12:30 - 1:30 p.m.,
"State of Diversity at Carnegie Mellon" by President Jared Cohon
Rangos Hall, University Center
1:30 - 2:30 p.m.,
Presentation of the Martin Luther King Jr. Writing Awards (area high school students and Carnegie Mellon students will read personal narratives and poems revealing their experiences with racial difference and discrimination)
Rangos Hall, University Center
2 - 2:45 p.m.,
"The Tree House" puppet show and puppet making for children
Kirr Commons, University Center
2:30 - 3:40 p.m.,
Panel discussion on Dr. King's "Six Steps for Nonviolent Social Change" moderated by Everett Tademy, the university's director of equal opportunity services. Panelists include Indira Nair, vice provost for education at Carnegie Mellon; Joe Trotter, director of the Center for Africanamerican Urban Studies and the Economy and head of the History Department at Carnegie Mellon; and Father Bryan Summers of the Roman Catholic Newman Center
Connan Room, University Center
3:45 - 4:25 p.m.,
Community Collage, Carnegie Mellon students and staff use artistic expression to pay tribute to Dr. King
Kirr Commons, University Center
4:30 p.m.,
Candlelight procession from the Purnell Center to Rangos Hall
Purnell Center Rotunda
5 - 6 p.m.,
Keynote address, "Why We Can't Wait: The Need for Social Transformation," by award-winning author and ordained minister Dr. Michael Eric Dyson.
Rangos Hall, University Center
6 - 6:30 p.m.,
Reception
Rangos Hall, University Center

Community Service Registration
Sign-up to volunteer at local community organization for Saturday, January 25.
Kirr Commons, University Center


Related Links:
Martin Luther King Jr. Day
Diversity Resource Guide
Diversity Advisory Council
Martin Luther King Jr. Day 2002

(01/06/03)