A review of some of the honors, awards and appointments received by members of the university community this past summer.
Teddy Seidenfeld, the Herbert A. Simon Professor of Philosophy and Statistics, has been elected to the American Academy of Arts and Sciences. Seidenfeld was recognized as a "student of philosophically significant aspects of the foundations of probability, statistical reasoning and decision making, finitely additive probability, dilation, group decision making, fiducial reasoning and confidence interval estimation."
Paul Goodman, the Richard Cyert Professor of Organizational Psychology in the Graduate School of Industrial Administration, was a co-recipient of the Academy of Management's Distinguished Educator Award for his educational contributions. The award, one of the highest honors the academy bestows upon its members, was presented Aug. 7 at the academy's annual meeting in Washington, D.C.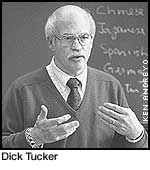 Dick Tucker, professor and head of the Modern Languages Department, has been elected chairman of the Board of Trustees of the TESOL (English as a Second Language) International Research Foundation. The TESOL Foundation is a Washington-based nonprofit organization that supports research, information dissemination and policy formation to improve the teaching and learning of English as an additional language around the world.
Chemical Engineering Professor Lee White received the Thomas Baron Award in Fluid-Particle Systems by the Particle Technology Forum, a unit of the American Institute of Chemical Engineers. The award recognizes an individual's outstanding scientific and technical accomplishments, which have made a significant impact in the fluid- particle systems or in a related field with potential for cross-fertilization.
Milton L. Cofield, the former James E. McGhee Distinguished Professor in Imaging Systems Management at the Rochester Institute of Technology, has been named executive director of the Graduate School of Industrial Administration's undergrad-uate business administration program and senior lecturer of business management.
Richard Buchanan, professor and head of the School of Design, has been appointed president of the Design Research Society, an international, multi-disciplinary society for the design research community. The society has facilitated a worldwide design research network in 35 countries.
Tuviah E. Schlesinger, professor and associate head of the Department of Electrical and Computer Engineering, has been elected a fellow of the International Society for Optical Engineering for his "outstanding work in penetrating radiation and electro-optic devices."
Anastassia Ailamaki, assistant professor of computer science, has received a $40,000 IBM Faculty Partnership Award. The award recognizes and fosters novel, creative work and strengthens the relationships between leading universities and the IBM research and development community.
Adam Edelstein, a design major in the School of Drama, was one of 29 summer interns selected from a field of 400 applicants for the 2001 Kennedy Center Internship Program at the John F. Kennedy Center for the Performing Arts in Washington, D.C. The program is recognized by the Princeton Review as one of the "Top 100 Internships" in the United States.
Professors Wil Gorr and Ramayya Krishnan and Heinz School doctoral student Danny Fernandes won the Best Paper Award from the Association for Information Systems for their paper, "ServiceNet: An Agent-Based Framework for One-Stop E-Government Services."
Richard Gribenas, exhibition coordinator of the Regina Miller Gouger Gallery, has received the Pittsburgh Center for the Arts' 2001 Emerging Artist of the Year Award.
Ronald Bianchini, an adjunct professor of electrical and computer engineering and computer science, was a finalist for the Western Pennsylvania 2001 Ernst & Young Entrepreneur of the Year Award in the Emerging Entrepreneur category. He was selected for his ability to "operate successfully in multiple and diverse environments including the academic arena, large multinational companies and start-ups for the initial seed stage."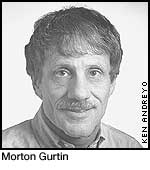 Alumni Professor of Mathematical Sciences Morton Gurtin is the winner of this year's Cataldo e Angiola Agostinelli International Prize from the Academia Nazionale dei Lincei in Rome. The $13,000 award is given annually to an eminent scholar in the fields of pure or applied mathematics or mathematical physics.
Chemistry Professor Gary Patterson has received a $10,000 grant from The Center for Theology and the Natural Sciences (CTNS) for the development of a new course focusing on the ongoing dialogue between science and religion. The grant was one of 100 awards given to colleges and universities in CTNS' annual Science and Religion Course Award Competition.
Electrical and Computer Engineering Professor Rob Rutenbar has received the Stephen J. Jatras (E 1947) Professor-ship and the 2001 Aristotle Award from the Semiconductor Research Corporation. Rutenbar, an internationally known researcher in computer-aided design for analog circuit synthesis and high-speed digital circuits, earned the Aristotle Award for outstanding teaching and advising. He is director of Carnegie Mellon's Center for Circuits, Systems and Software.
Cristina Amon, professor of mechanical engineering and biomedical and health engineering, has received the Raymond J. Lane Distinguished Professorship in Mechanical Engineering. Amon, an internationally known scientist in the fields of computational fluid dynamics and heat transfer, is director of the Institute for Complex Engineered Systems. She is a fellow of the American Society of Mechanical Engineers and a past recipient of the American Society for Engineering Education's George Westinghouse Teaching Award.
Judith Klein-Seetharaman, a biological chemist working as a postdoc in the Computer Science Department, has received the Sofja Kovalevskaja-Science Prize from the Humboldt Foundation in Germany. The award comes with a cash prize of 1,708,000 Deutsch Marks, equivalent to about $1 million in American currency, for her research and expenses. The prize is intended to allow the recipients to establish their own research laboratory at an institution of their choice in Germany.
Srinivasan Seshan, assistant professor of computer science, has received an IBM Faculty Partnership Award and a National Science Foundation (NSF) Career Development Award. The IBM award was granted for his work in networking protocols and infrastructure for ubiquitous computing. He earned the NSF Career Award for his proposal, "Towards an Efficient Ubiquitous Computing Infrastructure," in which he will attempt to design a new networking and operating system infrastructure for the next generation of ubiquitous computing applications.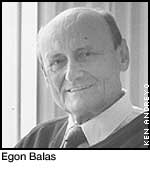 Egon Balas, the Lord University Professor of Operations Research in the Graduate School of Industrial Administration, was the first American awarded the Euro Gold Medal by the European Association of Operational Research Societies at its summer meeting in Rotterdam, Holland. The award is Europe's highest distinction in the field of operations research. Balas was recognized for his "leading role in integer programming during the last 35 years, and for his innovative and influential methodological breakthroughs that greatly impacted the practice of operations research."
Dana Scott, the Hillman University Professor of Computer Science, Philosophy and Mathematical Logic, received the B. Bolzano Honorary Medal from the Czech Academy of Sciences for outstanding contributions in the mathematical sciences. He was presented the award at the 26th International Symposium on Mathematical Foundations of Computer Science in late August at Marianske Lazne (Marienbad) in the Czech Republic.
Dannie Durand, associate professor of biological sciences and computer science, has received a Genome Scholar Faculty Transition award from the National Institute of Health's National Human Genome Research Institute. The program is intended to "promote exceptionally talented, new investigators in genomic research," focusing on several key research areas in genomics including bioinformatics and computational biology. The million-dollar award, to be spent over a four-year period, will support Durand's research program in computational genomics on the analysis of gene duplication in vertebrates.
Gregory Rohrer, professor of materials science and engineering, and director of the Materials Research Science and Engineering Center, is the author of the new book, "Structure and Bonding in Crystalline Materials," published by Cambridge University Press.
Lisa Krieg has been named interim director of the Office of International Education (OIE). She replaces Linda Melville, who has moved to New Mexico. Krieg earned her bachelor's degree at Cornell University and her master's degree in Higher Education at Columbia University Teachers College. Prior to joining OIE, Krieg was director of academic advising at Chatham College.
Cambridge University Press has published "Risk Communication: A mental models approach" by Carnegie Mellon professors Granger Morgan and Baruch Fischhoff and their former Ph.D. students Ann Bostrom and Cynthia J. Atman. The book provides a systematic approach for risk communicators and technical experts hoping to serve the public by providing information about risks.
"Improving Regulation: Cases in Environment, Health, and Safety," a book edited by Professors Paul Fischbeck and Scott Farrow was published recently. The book has 18 chapters, 16 of them from Carnegie Mellon affiliated authors, focused on institutions, behavior, uncertainty, and regulatory design and performance. Subjects include genetic testing, the Clean Air and Water Acts, energy sector jurisdiction, inspection and monitoring, pollution prevention and other topics. A CD with a software template to assist in risk and economic evaluation of air pollution regulations is included.
Compiled by Edmund Delaney
(09/27/01)