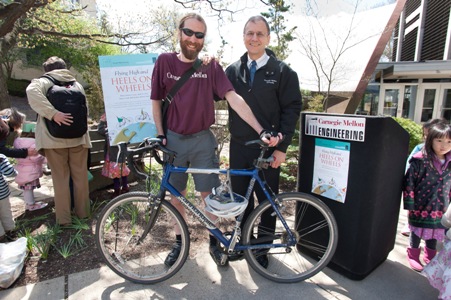 The Steinbrenner Institute for Education and Research seeks to change the way the world thinks and acts about the environment.
"Research and Education on the Environment" was declared one of four strategic thrusts for Carnegie Mellon in 1998 strategic plan and reiterated in the 2008 strategic plan. Based on a 2002 Subcommittee Report, the Trustees of Carnegie Mellon recommended that:

"The goal of environmental work at Carnegie Mellon should be to change the ways the world thinks and acts about the environment, through our educational and research methods and results, through the issues we raise, and through the outcomes we produce."
The Steinbrenner Institute for Environmental Education and Research was established in 2004 with the generous support of Lowell and Jan Steinbrenner to help realize this goal.
Mission of the Steinbrenner Institute:
Facilitate connections and coordinate new research initiatives
Promote and help build the strengths of our environmental research centers
Advance emerging and interdisciplinary interests in environmental education and research
The Steinbrenner promotes the university's core academic strengths and advances emerging interests to identify and create research and education opportunities for our faculty and students; across all schools and majors. Carnegie Mellon is uniquely positioned by its industrial heritage, its interdisciplinary culture, and its experience in engaging with regional, national, and international organizations to continue to make innovative contributions to a better environmental future.
The Steinbrenner Institute works to enhance and accelerate environmental education and research efforts at Carnegie Mellon, and will be happy to find a way for you or your organization to join us!