PI: Yang Cai
Member: Joseph Laws
Goals
Rapidly growing 3-D millimeter wavelength imaging systems have raised privacy concerns because the scanner produces an almost naked image of the subject. The goal is to blur private parts but reveal weapons.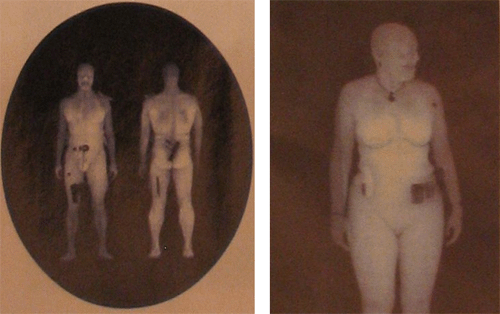 Approach
The feature shape template is constructed with Radial Basis Functions that fits the data points with a non-linear repression.

Results
The algorithm has been tested on 100 scanned human models from CAESER database that contains 50 males and 50 females ages 16-65. We found the breast features from known female and male scan data samples. From the plot, we can see the distinguishable two groups for male (without the curvature feature) and female group (with the curvature feature). There is a 'dilemma' zone where some overweight males have the curvature features. However, the over-lapped zone is small, less than 8% of the total 100 samples.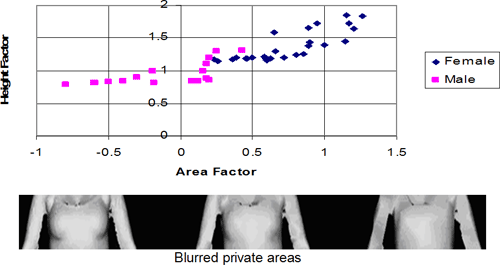 Applications
Airport and transport authorities in United States are refusing to test trial the scanner until it finds a more suitable way to conceal certain parts of human body. This study will benefit to the manufacturers of the security systems and transportation security agencies. This research also creates a new technology for protecting privacy in the 3-D human scans in medical databases, surveys and human subject records. In addition, the feature detection method can be applied to general 3-D feature detection cases, such as reconstruction.
Reference
Joseph Laws and Yang Cai, "Privacy Algorithm for 3D Human Body Scans," in Lecture Notes in Computer Science, Proceedings of ICCS Workshop of Digital Human Modeling, Readings, UK, May 30.
Sponsored by the National Science Foundation.