PI: Yang Cai
Member: Guillaume Milcent
Goals
The goal of this project is to transfer digital videos from multiple moving vehicles to multiple wireless access points (MVMP problem). We also want to enable a smooth video signal hand-over along the 802.11g access points. This would enable affordable wireless video streaming to long distance stations. In addition, we want to validate the prototype at a realistic environment.
Approach
We used 802.11g for the vehicle-to-land wireless network and throughput-based signal hand-over.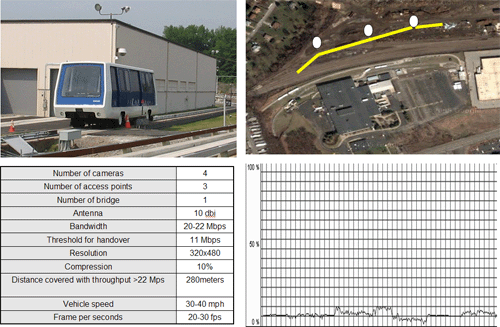 Multiple Vehicle and Multiple Access Points Mobile Video Streaming
Results
On June 17, 2005, we tested our prototype at Bombardier Transportation West Mifflin's Test Track successfully with 4 digital onboard cameras at speed of 20 miles/hour to 2/3 access points for 300 meters.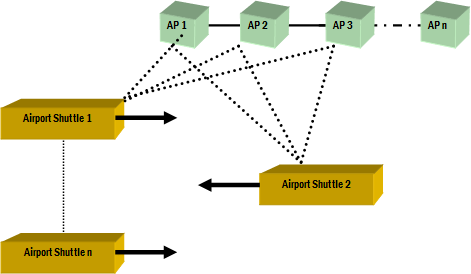 Applications
Hot-spot-based video streaming
Mobile video services
Affordable video mesh networks
Video-On-demand near-field kiosks
Distributed video network protocols
Reference
Guillaume Milcent and Yang Cai, "Video-on-Demand for Wireless Network Throughput Control", in Proceedings of Workshop " Ambient Intelligence for Everyday Life", Spain, 2005.