Life at the Tepper School
Bring your authentic self to Tepper, where the only thing we conform to is a culture built on collaboration and respect.
Tepper students take full advantage of life at Carnegie Mellon. Friendships form in your residence hall, classes, student clubs, intramural sports courts, dining halls, and beyond.
Collaborate with seriously smart students from across campus and grow your circle by immersing yourself in activities that inspire you. Choose from clubs, intramurals, and a myriad of campus organizations — all filled with talented students from diverse majors, backgrounds, and life experiences.
By the time you graduate, you will know engineers, artists, performers, historians, computer scientists, musicians, statisticians, scientists, and mathematicians, and you will all share the unique bond of being a CMU student.
We continue to offer ways for students to connect in the in-person and virtual environments to participate in club activities and community events. We encourage current students to read the UBA Weekly Newsletter (published every Monday) and check the Tepper Undergraduate Business Canvas site to join virtual events.
Tour the Tepper Quad
Experience undergraduate business life through our virtual tour.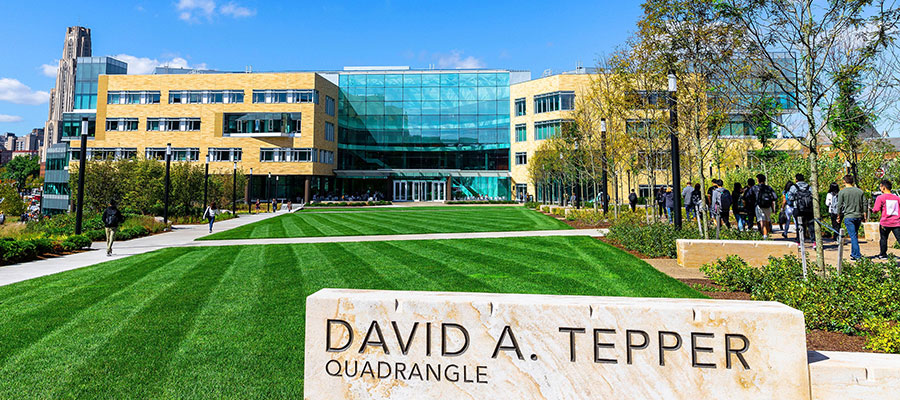 Home to the Tepper School at the heart of the university, the Tepper Quad is an innovation hub where all of Carnegie Mellon comes to collaborate.
Connect with future-thinkers from every discipline: from researchers and architects to AI engineers and entrepreneurs. Work in collaborative learning spaces. Dine in CMU's largest facility. Work out in a state-of-the-art fitness center. All in one place.
Decide for yourself what experience you want. It's all waiting for you at CMU.