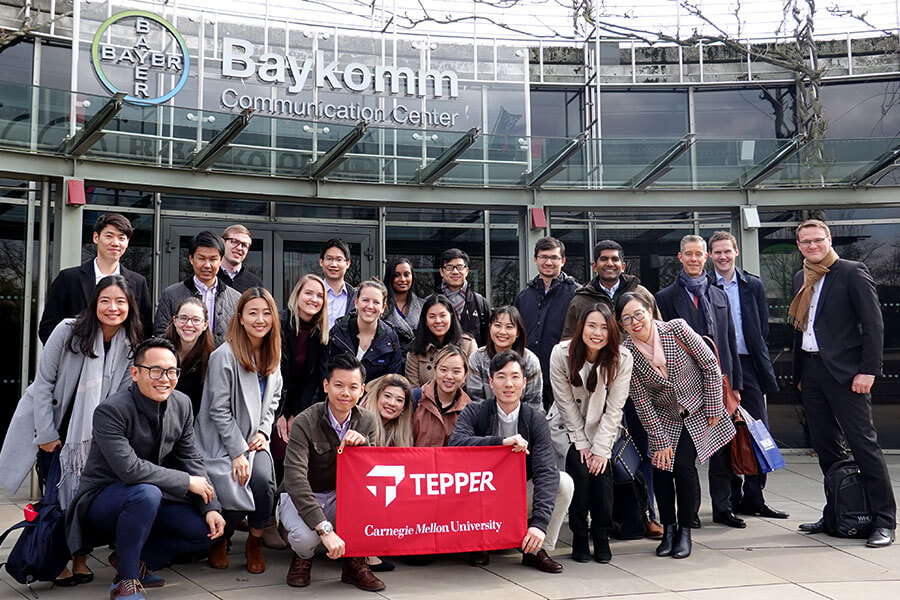 MBA Global Study Capstone
The Global Study capstone offers MBA students the opportunity to gain a broader perspective on global business through a four-week study abroad course. Students may choose between programs in Hong Kong and mainland China or Germany.
Participating students acquire a deeper understanding of business practices specific to that region through classes conducted by local partner schools. Through tours of local companies and meetings with business leaders, students observe how businesses operate in other parts of the world and increase their understanding of different business cultures.
By spending extended time overseas, students also develop cross-cultural thinking skills and learn to navigate different cultures and social norms — crucial skills for any business professional in today's global economy. In order to complete the course, students must return to the Tepper School at the end of the mini to participate in a project presentation.
The Global Study capstone is also an option for part-time students. Please note: The cost of study abroad is not included in the Tepper School tuition.
Germany Study Abroad
MBA students travel to Koblenz and Berlin in Germany, and also Bratislava in Slovakia and Prague in the Czech Republic. Our partner school — WHU, Otto Beisheim School of Management — is located in Koblenz.
Students attend class Monday through Thursday, covering subjects including:
European Economic Integration
Competing in European Markets
Operations Management in Europe
Some companies visited by students include:
The European Central Bank
Steuler Group
Leica Headquarters, Germany
Volkswagen
Commerzbank AG
Nestle, Prague
Hong Kong-China Study Abroad
The Chinese University of Hong Kong (CUHK) Business School is our partner for the Hong Kong-China Study Abroad capstone. Students will also travel to Macau, Shenzhen and Guangzhou.
Most classes will be conducted in Hong Kong. Students attend classes Monday through Thursday, covering subjects including:
Bank Lending in China
Entrepreneurship in Asia: A Comparison on Government Support
Comparison of China's Equity Markets: Hong Kong, Shanghai & Shenzhen
Corporate Governance in China
Some companies visited by students include:
Hong Kong Exchanges and Clearing Limited
Cathay Pacific
The Hong Kong Trade Development Council
Yantian International Container Terminals