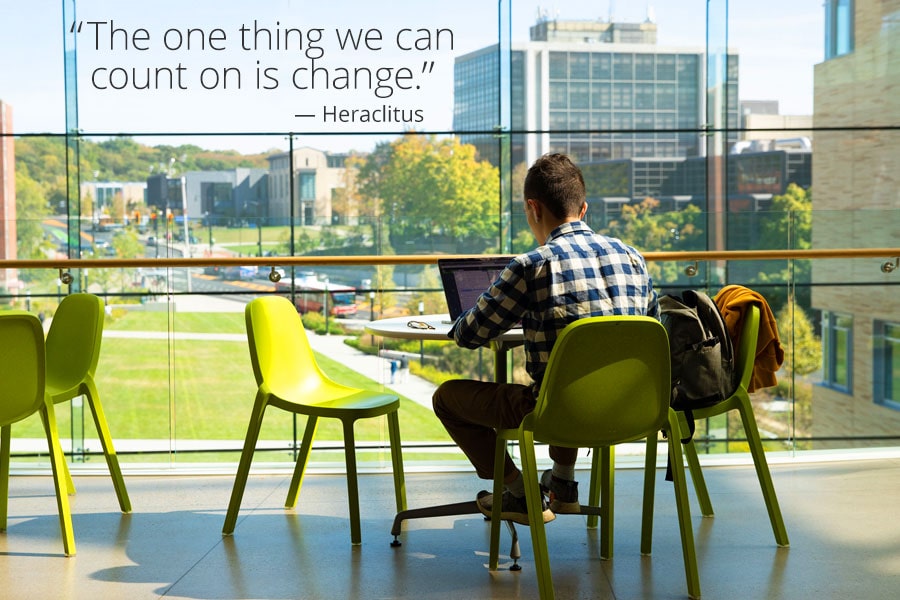 April 08, 2020
COVID-19 Update: We Are Adjusting Our MBA Admissions Process
"The one thing we can count on is change." This saying has never been so true as it has been this past month.
Even though our reality has fundamentally changed, one thing I am most proud of, in Pittsburgh and at Tepper, is that we will continue to use the tools we have to support our community moving forward.
As I look towards the future, I am proud that Tepper has long been a leader in the art and science of technology-enhanced business education. We have a well-designed and robust infrastructure in place so our students will not have any disruption in obtaining an outstanding MBA education, regardless of the format they choose.
Our part-time and full-time programs continue to be leaders among the nation's top business schools and just recently, our online MBA was ranked #1 by Poets & Quants. Delivering education online requires a different pedagogy than in-person learning. Fortunately for our students, our faculty excel at both.
As well-known innovators, we teach our MBA students how to have an eye on the future, succeed during times of ambiguity, and lead - on teams as well as virtually. There is no better time to pursue an MBA at Carnegie Mellon's Tepper School of Business.
Adjusted Admissions Process
In that spirit, we are adapting to today's environment and streamlining our admissions process for our MBA applicants. It's not too late to apply for fall 2020. Whatever your current situation or location, we have an MBA format to meet your needs.
As well, we are the only top MBA program that allows you to transition seamlessly from part-time to full-time or vice versa. And ALL MBA students are supported by our top-ranked Career Services team and Accelerate Leadership Center.
Further, we are waiving application fees through July 31 as one more effort to help you apply and achieve your goals.
For those who haven't yet applied, our goal is to be as supportive as possible during these challenging days. Changes for applying include:
No application fee for those who apply by July 31, 2020
New application round with expedited decision deadline. Apply by May 31, 2020, for a decision by June 22, 2020.
Extended rolling admission through July 31, 2020
More flexibility in application requirements and credentials.
Once admitted, we will continue to support you. We have reduced the deposit amount that will allow you to hold your seat in the program and hopefully will be less of a burden during this very challenging time. And if you have special circumstances that still make this untenable for you, please reach out and we will see what we can do. We care about our students and we want to make it as easy as possible for you to join us in the fall and accomplish all your goals.
Out of chaos, comes opportunity. Whether you're interested in pursuing your MBA full-time, part-time, or part-time online, our program helps you achieve your career goals. The Tepper School is a leader in the digital (and virtual) age of innovation. We will make sure you are, too.
Our admissions team is pleased to help you navigate this process. We are available for a one-on-one phone call or Zoom meeting. Judy Nardiello can set up a time for you to speak with an admission officer when it is convenient for you. You can reach Judy at 412-268-5687.
---