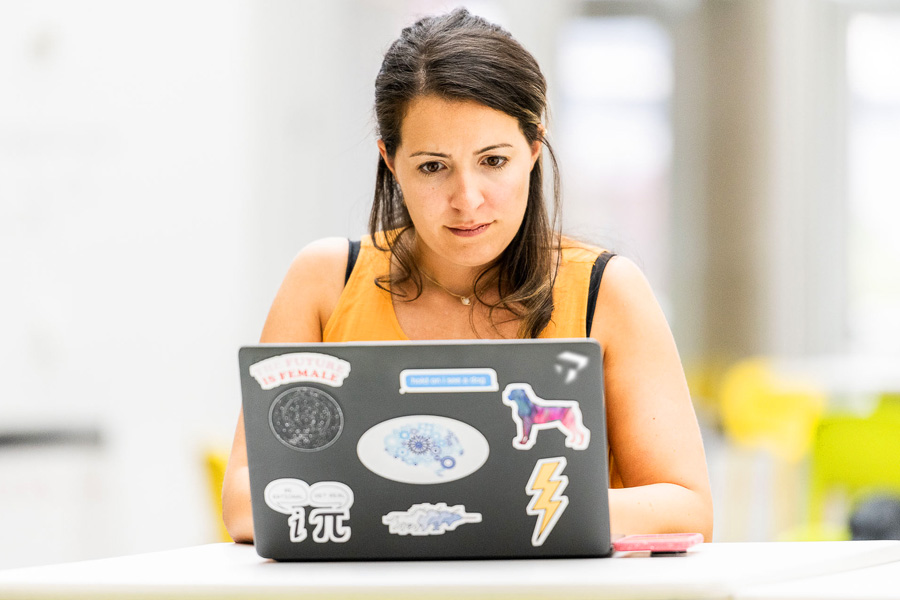 March 20, 2020
COVID-19 MBA Admissions Update: We're Going All Virtual
First, thank you for your patience as we transitioned to a virtual office. We appreciate that you are going through a similar experience and understand that you may have questions about what this all means for the MBA admission process at Tepper.
While this is an uncertain and unprecedented time, you can continue to rely on our MBA Admissions team for guidance, resources, and understanding. I'd like to share with you the latest on our admission procedures and how we are moving forward.
Carnegie Mellon is committed to the health and well-being of all our students, faculty, staff, and guests. Many difficult decisions have been made. We share in the disappointments many of those decisions have caused but take comfort in knowing that they are part of a greater necessity — the safety of our entire community.
The main point I want to stress is that we will continue to receive applications, make admission decisions, and eagerly await the start of our fall 2020 MBA program. The only difference is that the process will now be fully virtual.
What I love about Carnegie Mellon is that we are always striving for innovation, and this crisis presents an opportunity to do what we do best — leveraging technology to improve a process. Or in this case, identify different ways of supporting prospective and admitted students. While we miss seeing you in person, we know that we can effectively guide you through the process in new and creative ways without missing a beat.
Because I have a lot to share (thanks for sticking with me), I've broken up the key updates by MBA program and population.
For Everyone
In accordance with recommendations from the CDC and local agencies, all on-campus and off-campus events are canceled until further notice. University-level updates can be found on CMU's COVID-19 information center. We will provide any updates that impact prospective students and applicants as we receive them.
Hosting you virtually — whether conversations, class visits, or webinars — is not new for us.
Talk with an Admission Officer: If you want to talk on the phone or prefer to meet via Zoom, let Judy Nardiello know and she will set up an appointment with an admission officer. Contact Judy at 412-268-5687 or mba-admissions@andrew.cmu.edu.
Attend virtual events, including Information sessions, chats with current students, and online class visits. If you have already connected with us, we will email you as well. If you haven't, please join our mailing list
Follow us on Instagram: Additionally, we're excited about some upcoming interactions we'll be hosting on social media. If you don't already, I would highly encourage you to follow us on Instagram to see what we've been up to.
Contact a current student: You can't beat the perspective of a current MBA student. They look forward to sharing their experience with you.
Admitted Students
I posted on the admitted student Facebook group that this past week and a half has been like standing on shifting sand given the daily changes we experienced. While we made the necessary but difficult decision to cancel both our Full-Time Welcome Weekend and Part-Time Admitted Student weekends, we are diligently working toward delivering the content online. I am excited by the energy of our students who are invested in making "Welcome Weekend: Home Edition" a meaningful experience. We are close to finalizing these activities and we will email you with an update.
We understand that this is an uncertain time for you as well. We know that choosing to pursue your MBA was already a major life decision that has suddenly become even more weighty. Tepper is a small program and we care about our students, so we want to help as you navigate through the shifting sand to make the best decision for your future. As a result, we are adjusting some of our policies to provide options for whatever circumstances you may find yourself.
Moving forward: Our round two initial deposit deadline is about four weeks away and we hope that you are still planning to secure your place in the class. If your circumstances change and you are unable to join the Tepper MBA because of the coronavirus, we will offer an admission deferral to fall 2021 and refund your deposit. Should you need to do this, just stay in touch with admission officers and we will be here to help. We trust that this flexibility will serve to lower any anxiety about submitting your deposit during this uncertain time.
We want to be a continued resource for you today, tomorrow, and in the weeks to come. If you have been working with a specific admission officer, stay connected. If you don't have a specific contact, email us. We will be sure to connect you with an admission officer immediately. No question is too small.
While this is an ever-changing environment and we may not have an immediate answer, allow us to support you in this process.
Applicants (Rounds Three, Four, and Extended Rolling)
We are full-steam ahead in Round Three. The application review process is currently underway and has seen no changes. We will release Round Three decisions on May 4. (Insert "Star Wars" joke here.)
Interviews will be hosted online and are already a regular part of our process. You can register for our Demystifying the Tepper MBA Interview webinar, taking place Wednesday, March 25. If you have applied in Round Three but your application is incomplete because of GMAT/GRE/TOEFL/IELTS testing cancelations, follow the guidance below.
Our Round Four application deadline is April 9 and we know that many of you are wondering about the GMAT/GRE. As noted above, we want to help make the process less stressful so are trying to be flexible during this time. If you live in an area where your testing site was closed due to the outbreak, we encourage you to continue working on your application and submit it by the deadline. We will process your application and hold it until we receive your test score.
If you have not yet taken the GMAT/GRE/TOEFL or your exam date was canceled, simply submit a Round Four application with all other required application materials. When completing the application, you will be prompted to check the box if you plan to retake or need to schedule the exam. If you have a rescheduled test date, enter that date. If you do not, leave the field blank.
You will receive a Round Four decision on May 21 if you submit an unofficial test score by May 10. What is an unofficial test score? On the day you take the test, the testing agency provides you with an unofficial score report. You may receive an admission offer with the provision that we need to receive your unofficial score to complete your admission.
If you are unable to meet the May 10 deadline, we will move your application into our Extended Rolling Round and will work with you to understand when you may be able to take the test.
If you have a current GMAT/GRE/TOEFL score but were planning to retake, submit a Round Four application with your current test score. When completing the application, you will be prompted to check the box if you plan to retake or need to schedule the exam. If you have a test date, enter that date. If you do not, leave the field blank. If you have not retaken your exam by May 10, we will reach out to you to see if you would like to proceed with an admission decision or move your application to our extended rolling round.
Extended Rolling Round
Typically, after Round Four has ended, we are still able to receive MBA applications until the end of June and provide decisions on a rolling basis. In response to the growing concern over GMAT/GRE testing availability, we are going to keep our application open as far into the summer as we can. If your application needs to move to or is submitted in the Extended Rolling Round, we will work with you to understand your plans and will be as flexible as possible.
For Everyone (Again)
Thank you for sticking with me and reading this post. Know that while we are all navigating uncharted waters, the MBA Admissions team and the Tepper School is with you every step of the way. We look forward to welcoming you as part of our incoming MBA class.
No doubt our circumstances will change over the coming weeks. We will keep you apprised of how that may impact you. I find comfort in the knowledge that our Tepper graduates are prepared to lead and adapt to the uncertainties they face.
---