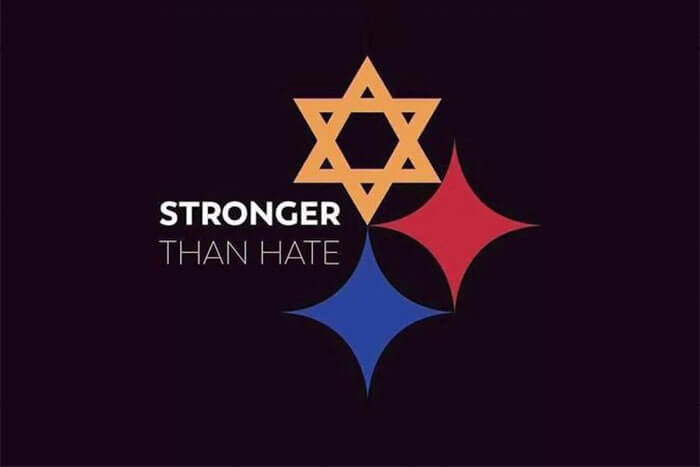 October 29, 2018
Stronger Than Hate
This is a post I never imagined I'd need to write. I was stunned when I learned what was happening Saturday morning. My Facebook post simply read: "Unbelievable. Please pray for our neighbors in Squirrel Hill."
What was happening was difficult to comprehend. Whether you also live in Pittsburgh or on the other side of the world, I'm sure by now you have learned about what unfolded this weekend in what was my neighborhood for ten years. A peaceful, beautiful community that was shaken to its core.
The members of the Tree of Life Synagogue, residents of Squirrel Hill, and the entire Pittsburgh community will not let this tragedy define how we move forward. As Pittsburgh Mayor Bill Peduto said, "Pittsburgh is stronger than hate." In an interview with the Today Show, he continued, "We fight hate with love. We fight it with compassion. We fight it with an understanding that a neighborhood like Squirrel Hill is the most diverse in all of Western Pennsylvania, is a welcoming community that welcomes everyone. It's a community whose foundation is based on that understanding."
Even as I write this, Pittsburghers are demonstrating their support for our neighbors through acts of kindness and caring. A candle-light vigil was held in Squirrel Hill Saturday evening where neighbors stood shoulder-to-shoulder showing support for the families of the victims and the community. A number of interfaith services have been held across the Pittsburgh region, including one Saturday night at Pittsburgh's Sixth Presbyterian Church in the heart of Squirrel Hill. The Islamic Center for Pittsburgh has raised money and will work with the Synagogue to distribute funds to victims' families. A GoFundMe account has already raised almost $600,000 in one day and will go directly to the Tree of Life Synagogue. A call for blood donations resulted in lines as long as three hours as city residents wanted to help in any way they could. The signs of love and compassion that Pittsburghers have shown each other in the wake of this tragedy has been astounding.
Throughout the weekend, we as a CMU community received a flow of messages from our leaders. First, it was an alert about the incident followed by a number of emails from our President, Provost, Dean and other leaders of our University providing information about resources and support available during the weekend and in the coming days and weeks. They urged us to take care of one another. They asked us to come together as a campus community later today to honor those we have lost and move together as a community. Then, this morning when we arrived at work, we received an email from Tepper's Dean's Office with the subject: "Coffee and Fellowship Monday Morning." Our Deans simply wanted to provide a time for the Tepper community to sit with each other and to be a neighbor. Relying on each other and supporting our neighbors — this is how we move forward.
When you have a moment today, please say a prayer for the families of the victims of this tragedy. While we may not know them personally, our hearts break for them. This community is strong and filled with love for each other.
---