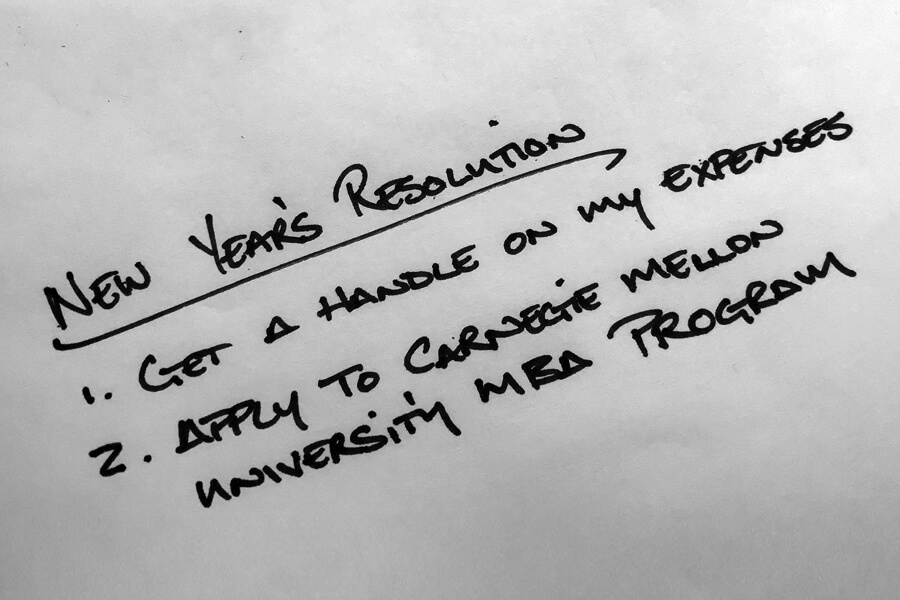 January 10, 2017
What Are Your Plans for the New Year? Is an MBA in Your Future?
Happy New Year! I wish you joy, peace and prosperity for 2017!
At the beginning of each new year, I make it a habit to take stock and do some planning. So, I want to do the same for you on Carnegie Mellon University's MBA Admissions front. 
Taking Stock
This new year starts with a bang for the MBA Admissions team at the Tepper School with the arrival of the Round Two application deadline. We are excited to report that our application volume is ahead of last year at this time by 16 percent.  
You've put in your hard work to submit the applications and now it is our turn. We know that we will be very busy in the coming weeks and look forward to reading your applications and interviewing you to learn more about your candidacy for the Tepper MBA program.
Speaking of interviews, take a minute to read my Oct. 25 post I Submitted My Application, When Will I Interview? The information is relevant for this round and will shed some light on our process.
Planning Your MBA Application Process
Every year it seems that the spring flies by. We put our heads down for the beginning of Round Two, and before we know it summer is right around the corner. For me, planning is essential for keeping all of my proverbial ducks in a row as well as my sanity!
Here are a few items to make sure you include on your calendar as you plan out the next few months:
Women's Visit Day — Feb. 10 (Contact the Admissions office if you are interested.) 
Women's Conference: Allies and Advocates — Feb. 11
Round One First Deposit Deadline — Feb. 15
Round Two Decision Notification Date — March 15
Welcome Weekend for Admitted Candidates — April 7 and 8
Round Two First Deposit Deadline — April 12
We will also be in a number of cities this spring for events and continue to welcome prospective students to campus for a first-hand experience of the Tepper MBA through our Campus Visit program. It is always good to see you!