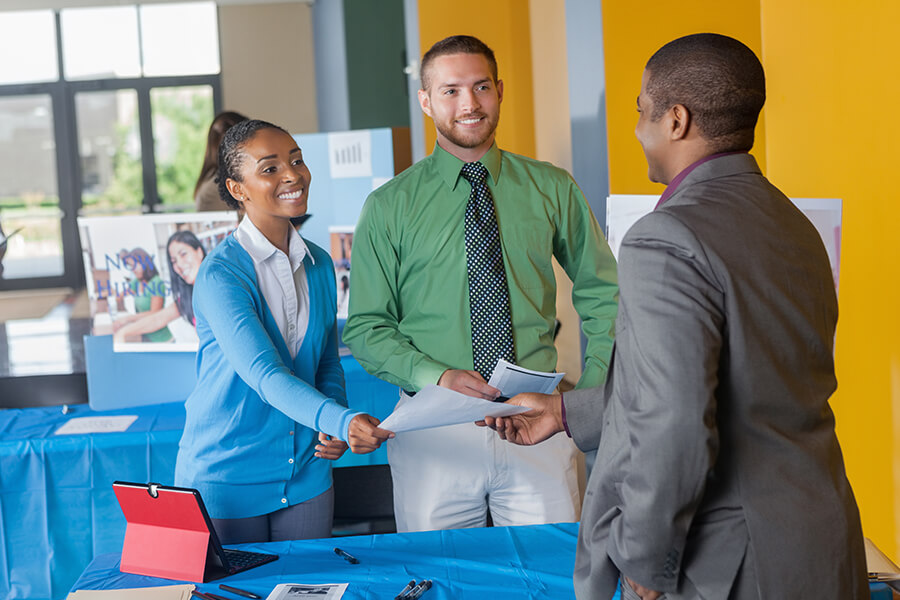 July 01, 2016
MBA Fairs: 5 Things to Remember to Do
MBA fairs are an early opportunity for you to get in front of admissions officers from schools across the globe, many whom travel to your city in the hopes of meeting well-prepared MBA prospects.
Don't quite know how to get the most out of an MBA fair? Here is a list of 5 things to remember to do:
1. Do be generous with the programs you will consider early on in the process.
Remember, there are a number of programs that may be a good fit for you. Be careful in limiting yourself early in the process.
Take time to think about what you are looking for in an MBA program. Are you looking for a full-time or part-time program? Would having the best of both worlds — an online hybrid program — fit the bill? Is there a world region that best suits your needs?
2. Do prepare for the event.
MBA.com provides a School Finder tool that is a terrific starting point. Using this tool, you can identify schools that meet your personal search criteria. I searched for two-year, Full-Time MBA programs in the U.S. that are military friendly. The search results in 66 programs.
Let's say you are wondering if you should attend the Inside the MBA event in NYC on July 21. Simply cross-check the results list against the list of Inside the MBA member schools to identify which of this exclusive group of schools is military friendly. The answer is 12 out of 15. You now have your priority list for the event!
3. Do your homework.
By this, I mean review the website of your priority list of schools. Have a basic understanding of how the unique selling proposition for a school fits with your wish list. For instance, when reading the Tepper School's website, you will come away knowing that we focus on leadership and analytics, have a small community that is a little different than others and that we offer a full-time, part-time and online hybrid option for delivering our MBA program.
4. Do dress the part.
Experts say that first impressions are formed within seconds of meeting someone. To be sure that you are making a good first impression with admissions officers, dress appropriately for the event. There is no dress code, per se. However, you don't want to be remembered for wearing inappropriate attire. That doesn't mean you need to wear a suit; most often a pair of slacks or skirt for women and collared shirt for guys will be just fine.
5. Do engage in a conversation and let the admissions officer know why you are targeting their school.
A polished introduction that clearly states why you want to attend B-school, what skill gaps you are looking to fill and how you believe their program will help you to be successful will get the conversation started.
From an admissions officer's perspective, we take particular note of candidates who arrive prepared, knowledgeable about our program and able to articulate specifically why they are interested in the Tepper School. This approach signals that you are serious about your MBA search and we'll remember you for this reason. My Tepper School colleagues and I will look for you on the road this summer and throughout the fall!