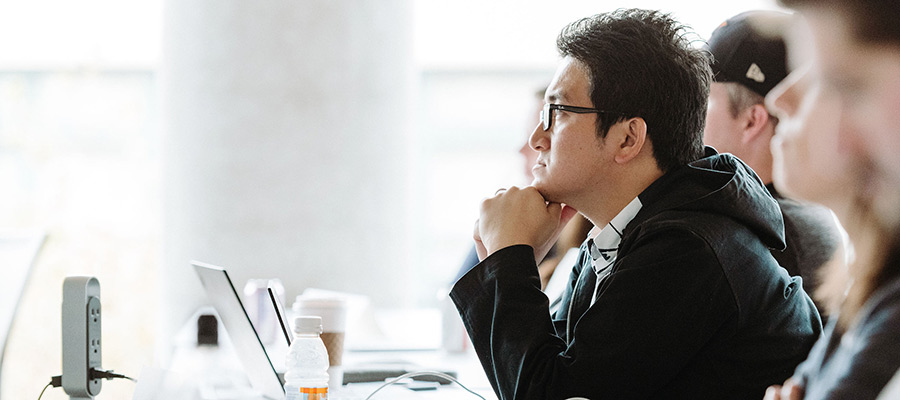 MS in Business Analytics Curriculum
What does industry need? We developed the Master of Science in Business Analytics curriculum with this question in mind.
In consultation with global business leaders, we determined that the greatest need is for professionals who not only have advanced analytical skills — such as machine learning and optimization — but also the business knowledge and communication skills to solve complex problems and bring value to industry.
As a STEM-designated program, the curriculum of the Full-Time MS in Business Analytics program equips students with leading-edge knowledge, skills, and experiential training in:
Methodology, including machine learning and optimization.
Software engineering, including large-scale data management and programming in R and Python.
Corporate communication, including communicating with non-technical stakeholders.
Business domain knowledge, including marketing, operations, accounting, finance, and people analytics.
Business Analytics Curriculum Built for Today
Our students develop proficiency in the full range of state-of-the-art business analytics techniques; they also learn how to tell stories through and extract insights from data.
Given the Tepper School's view of curriculum as an organic entity, our faculty continually work in concert to ensure that courses harmonize, even as they are individually updated and modified to ensure learning outcomes for students are always in step with an ever-evolving industry.
Tepper MS in Business Analytics Curriculum
Mini 1
Programming in R & Python
Introduction to Probability & Statistics
Data Exploration & Visualization
Business Fundamentals for Analytics Professionals
Experiential Learning
Mini 2
Business Communication for Analytical Decision Making
Statistical Foundations of Business Analytics
Optimization for Prescriptive Analytics
Modern Data Management
Experiential Learning
Mini 3
Managing Teams and Organizations
Machine Learning Fundamentals
Operations and Supply Chain Analytics
Analytical Marketing
Experiential Learning
Mini 4
Business Value Through Integrative Analytics
Machine Learning for Business Applications
Data Analytics in Finance
Ethics and AI
Experiential Learning
Business Analytics Learning Outcomes
Upon completing the program, MSBA students will be able to:
Demonstrate a depth of knowledge of quantitative and analytical tools for decision-making.
Make appropriate judgments regarding managing, manipulating, and analyzing large data sets.
Develop and/or efficiently apply computer software to implement analytical techniques.
Identify the potential and challenges of applying data analytics in a business environment.
Communicate effectively and persuasively.
World-Renowned Faculty
MS in Business Analytics students learn from and engage with the world's foremost experts in business analytics and benefit from course material that incorporates our faculty's leading-edge research. 
Full-time professors across the Tepper School develop and teach the MS in Business Analytics program and are deeply committed to its ongoing relevance and student success.