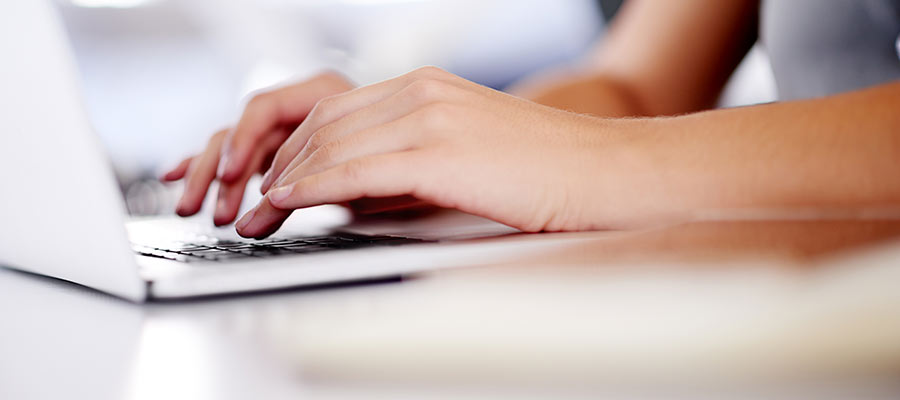 Apply to the Tepper MS in Business Analytics Program
Do you want to deliver on the promise of a data-fueled future? Start your application today.
We give equal consideration to every aspect of your application — goals, background, accomplishments — in order to determine if the Tepper MSBA program is a good fit for you.
Your Tepper MSBA application will contain a variety of components that provide the admissions committee information to assess your candidacy for our MSBA program. Through our review process, we do not assign specific weights to the various parts of the application.
Note to All MSBA Applicants
To safeguard the integrity of the admissions process, Carnegie Mellon University routinely uses a third-party company, Re Vera, to conduct verification procedures of all candidates who accept our offer of admission.
MSBA Application Instructions
Start by reviewing the application components below. We ask you to provide a bit of personal, professional, and educational information to get to know you better.
We suggest that you create your essay and goals and then sit down to complete the online form. We provide a time estimate at the top of each page in the online application. 

You'll only need about 30 minutes to complete the entire online application form.
Also, before you get started, be sure to view the on-demand application workshop, which is part of our Ace the App webinar series.
Application Components
Resume
Upload a copy of your resume. The purpose of this document is to provide a snapshot of your education and professional achievements in your career. Use a standard (i.e. Times New Roman or Arial), 12-pt. font for your 1-2 page resume.
Pro Tip: It is important to include month and year for starting and ending dates for each position held. If this key information is not included, we will ask for an updated resume, which may delay your application.
Education Requirement and Transcripts
Education Requirements
Students are required to hold a four-year undergraduate degree or equivalent from an accredited institution and be competent in these areas:
General mathematics including calculus and linear algebra
Basic statistical concepts and methods
Basic programming in any modern language
Though our standards are high and our admissions process is competitive, it is also holistic. We consider all aspects of an applicant's background and experience.
Transcripts
You will upload transcripts from all undergraduate and graduate programs you have attended or are attending. These may be copies of transcripts that you already have in your possession. However, these cannot be web transcripts. A web transcript is anything obtained from an online student portal, downloaded from your student record, or retrieved online.
Transcripts uploaded during the application process are considered "unofficial." What makes a transcript "unofficial" is that you have it in your possession instead of us receiving it in a sealed, stamped envelope directly from your university.
Pro Tip: View a sample of a web transcript that you should avoid submitting.
All candidates are required to upload legible, scanned/digitized copies of their unofficial transcripts and degree certificates which include the following:
University Transcripts: All transcripts are copies of actual university transcripts (not web transcripts), usually on watermarked paper with a seal, etc.
Degree Name: If you earned a degree, the name is on the transcript (i.e. Bachelor of Science, Master of Arts, etc.).
Degree Conferral Date: If you earned a degree, the date the degree was awarded is on the transcript.
Degree Certificate: If you earned a degree and the degree name/conferral date are not on the transcript, you must upload a copy of your degree certificate which includes this information. This cannot be a provisional certificate; it must be final. Still unsure what to submit? See sample degree certificates.
Grading Scale: Include for every university so we know what the grades mean. Often on the back of the transcript; otherwise, contact the university to obtain. Still unsure what to submit? See sample grading scales.
Official Translation: If the transcript is not in English, upload both the transcript in the original language and the official translated copy so that we can read it.
Pro Tip: If your uploaded transcript doesn't include all the required information, we will need to contact you to send the missing items, and your application may be delayed.
Pro Tip: Official transcripts (those sent directly by the degree-granting institution) are not required during the application process. Should you be admitted, you will be required to submit official transcripts later.
Official Test Scores (GMAT and GRE)
We accept both in-person and online versions of the GMAT, GRE, TOEFL, and IELTS.
Once we receive the official score, we will update your application checklist accordingly.
Request that the official score is sent to us using the following instructions:
GMAT:
Full-Time MSBA: 69H-XH-43
GRE Program Code: Carnegie Mellon Tepper School of Business: 4883
Pro Tip: GMAT and GRE scores are valid for five years and must be valid at the time you submit your application.
Pro Tip: If you have taken the GMAT or GRE more than once, report the highest overall score from any one testing date when completing the online application.
Official Test Scores Waiver Application
All applicants to the Tepper MSBA program at the Tepper School are required to submit a GMAT or GRE test score with their application as part of our holistic candidate review process. However, the Tepper School realizes that ongoing challenges due to the coronavirus pandemic may impact a candidate's ability to take the test under normal, standard conditions. For this reason, we are offering candidates the option to apply for a GMAT or GRE waiver with their application.
When deciding whether to apply for the waiver, we encourage you to be objective about your academic preparedness. Please consider the following:
Waivers will be granted on a case-by-case basis.
Waivers will be evaluated based on mathematical preparedness demonstrated through advanced quantitative classes in undergraduate or graduate work. These classes include, but are not limited to, calculus, linear algebra, and statistics.
Previous degrees (undergraduate or graduate) in a related discipline such as STEM degrees (science, technology, engineering, statistics, or mathematics) or business degrees with strong quantitative focus.
A waiver decision by the admission committee does not signal an admission decision. The admission decision will be based on a holistic review of the application.
When completing your MSBA application, please indicate that you are applying for a waiver request and provide additional information to support your request. Upon submission of your application, the waiver request will be reviewed, and you will receive a response to the waiver request within 10 business days of the application deadline.
English Language Proficiency Exam (TOEFL, IELTS, or Duolingo DET)
Candidates are required to demonstrate a level of competence in English to meet the admissions requirements of the university. You are required to take a TOEFL, IELTS, or Duolingo exam unless:
You attended an undergraduate institution, earning a bachelor's degree, where the sole language of instruction was English.
You earned a graduate degree where the sole language of instruction was English. (Although not required, we do recommend that you take the English Language Proficiency exam.)
You must request that the official score be sent from the testing agency to our program for us to verify the score entered into the application. Request that the official score be sent to us using the following codes:
TOEFL

 

Program Code:

 

Institutional Code = 2074; Departmental Code = 02

Pro Tip:

 

The

 

recommended TOEFL score is 25 on each section

 

of the Internet-based test. The

 

minimum TOEFL scores required to apply

 

for admission are: Reading: 20, Listening: 20, Speaking: 20, Writing: 20

IELTS

 

Program Code:

 

Select Carnegie Mellon and the Tepper School of Business 

Pro Tip: The

 

recommended IELTS score

 

is 7 overall and 7 in each band. The

 

minimum IELTS scores required to apply

 

for admission are: Listening: 7, Reading: 7, Writing: 7, Speaking: 7, Overall Band: 7

Duolingo

 

Program Code:

 

Select Carnegie Mellon University – Tepper School of Business

Pro Tip: The recommended Duolingo English Test (DET) score is 120 overall
Pro Tip: TOEFL and IELTS scores are valid for two years and must be valid at the time you submit your application.
Pro Tip: If you earned a degree from a non-U.S. institution, your academic documents should state that the sole language of instruction for the entire university was English in order to be eligible for a TOEFL/IELTS/Duolingo waiver. If your academic documents don't include this, you should upload an official letter from the University Registrar indicating English as the mode of instruction for the entirety of the degree.
Essays and Goals
There is one required essay for all Tepper MSBA applicants:
Describe how your academic and professional background prepares you for success in the Business Analytics program, what your objective is in pursuing a Business Analytics degree, and the reasons for which you are applying to Carnegie Mellon.
There also is an optional essay for additional information about your candidacy that you may wish to share with the admissions committee. Use this essay to convey important information that you may not have otherwise been able to convey. This may include unexplained resume gaps, context for recommender selection, etc. However, do not feel obligated to complete the optional essay.
We also ask you a question about your post-MSBA career goal. 
Professional Recommendations
We require two recommendations and ask you to select two people with whom you have professional relationships. Ideally, you would pick a supervisor (current or previous), but someone who can speak to your strengths at work would be best.

We use the GMAC Common Letter of Recommendation (LOR). The Common LOR is intended to save you and your recommender valuable time by providing a single set of recommendation questions for each participating school. This allows your recommender to use the same answers for multiple letter submissions, alleviating the workload of having to answer different questions for each school multiple times. You benefit because it makes the ask for several different letters to be written on your behalf much easier.
Application Fee
A $125 application fee is required of all applicants. This fee can be paid online using a credit card at the time of submission.
Supporting Documentation
Once you have completed your online application, if you have any supporting documents, they should be uploaded directly to your application via your application status page in the application portal.
If you have submitted all the application components, it isn't necessary to send anything else to us at this point. Upon admission, you'll need to send your official transcripts/academic documents. These details will be included in the admission letter, so no need to worry about it now.
Evaluative Interview
Following submission of your application, you may be invited to interview with a member of our MSBA Admissions team. Our evaluative interviews are by invitation only and are required.
We begin to invite applicants to interview within one week of the application deadline. However, you may receive an invitation any time prior to the decision notification date.
How We Conduct Admissions Interviews
At the Tepper School, the Admissions team conducts behavioral interviews. The behavioral interview technique is used to review a candidate's specific experiences and behaviors in an attempt to predict his or her potential for success at the Tepper School.
We are particularly interested in learning about candidates' skills and perspectives on teamwork, leadership, success, and failure. To prepare, we suggest that you:
Reflect on and clarify your short-term goals and your transition plan.
Think about specific questions related to how you might advance toward your future goals.
Identify specific examples when you have worked in a team, led a team, were challenged, succeeded, or learned something new.
International Applicants