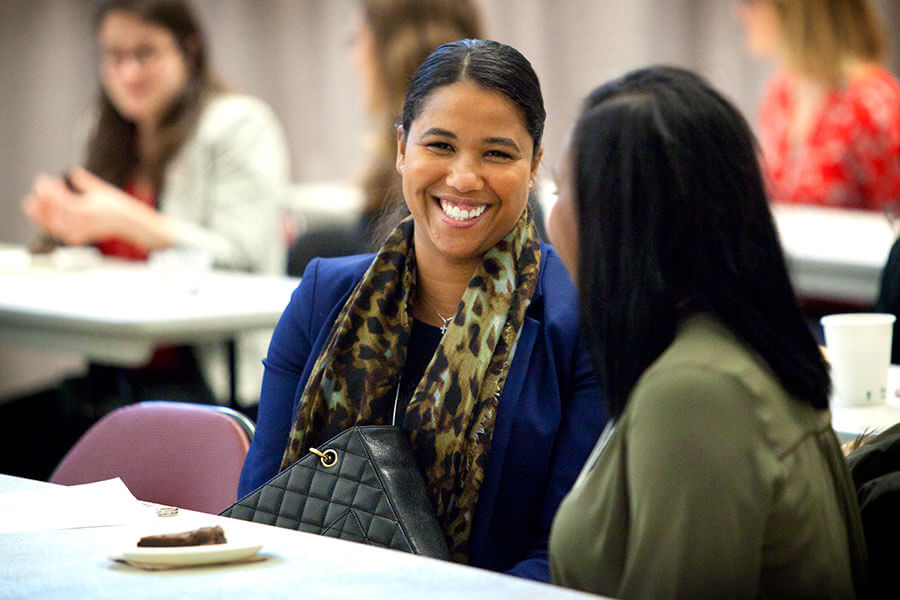 January 28, 2019
Negotiation and Advocacy are the Focus of Annual Tepper Women in Business Conference
On Sunday, Feb. 17, mid-career professionals and male allies are invited to attend the fourth annual Tepper Women in Business Leadership Conference at the Tepper Quad.
This year's "Negotiation and Advocacy" theme will focus on the opportunities and challenges women face in their careers. The conference provides attendees with professional development opportunities through a series of interactive break-out sessions, enlightening keynote speakers and leadership coaching. Attendees will also have the option to take new professional headshots.
This MBA student-led initiative organized by the Tepper Women in Business Club, Tepper School Forté Fellows and the Accelerate Leadership Center seeks to provide leadership development opportunities for professionals in part by amplifying the conversation on women's leadership both on campus and across the greater Pittsburgh region.
"At the Tepper School, one of our initiatives is to create an inclusive space to have these discussions about the workplace to empower women," said Crystal Sanchez, second-year MBA student and President of the Tepper Women in Business Club. 
Attendees will participate in morning and afternoon break-out sessions, which focus on key topics such as workplace allyship, career growth and networks. Keynote speakers including Dr. Linda Babcock, Professor of Economics and author of Women Don't Ask: Negotiation and the Gender Divide, and Dr. Rosalind Chow, Professor of Organizational Behavior and Theory who focuses on social hierarchy, justice, diversity, inter-group and intra-group processes, will highlight research on challenges women face at work and the ways women can serve as advocates for themselves and others. Accelerate Leadership coaches will discuss tactics to grow as a female leader in the workplace.
"Through the Accelerate Leadership Center, we instill the importance of diverse work environments in our students," said Leanne Meyer, Executive Director of Accelerate Leadership Center. "Mentorship and programming such as this conference are key to giving women the tools they need to be successful business leaders."
The conference, which is free of charge to attend, will provide a diverse and inclusive audience the opportunity for leadership and professional development. The conference is sponsored by PwC, Emerson, General Motors and American Water.
Register and view additional details for the 2019 conference.