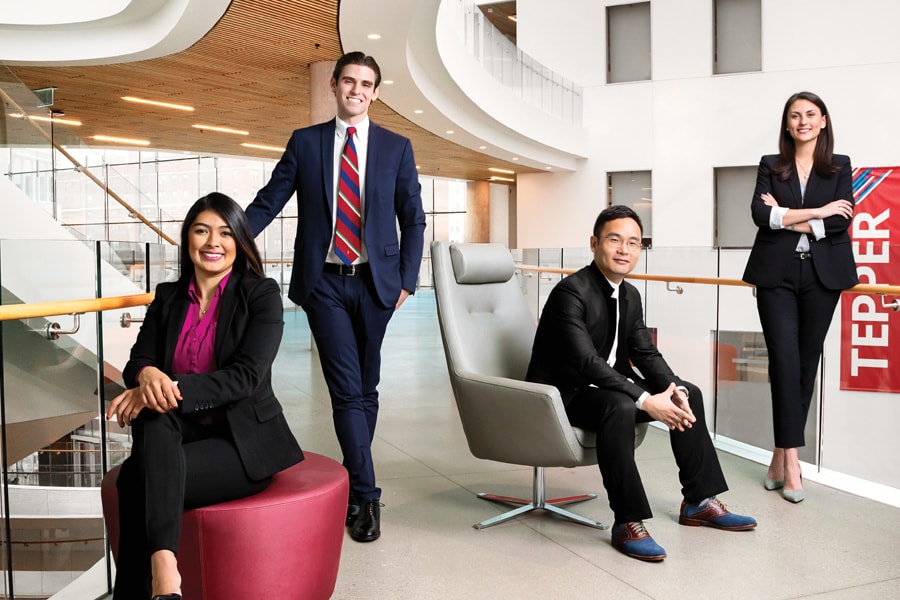 December 05, 2018
MBA Class of 2018 Employment Statistics
With nearly 90 percent of the MBA Class of 2018 accepting offers within three months of graduation, the Tepper School of Business is celebrating a five-year high in employment success for the Full-Time MBA, according to the 2018 Full-Time MBA Employment Report. In addition to traditional employment success, seven students in the Class of 2018 started a business. The Report summarizes employment outcomes for the graduating class of full-time MBA students, as well as summer internships for rising second-year students, by industry, function, geography and median compensation. 
The Report also found for the fourth year in a row, the graduating class set a new record for starting salaries, with an average accepted offer of $125,000 — an increase of $5,000 over last year's average. 
As compared to recent classes, this year's graduates saw a more balanced distribution among industries with tech sector jobs still holding the top place at 33 percent; followed by 23 percent for consulting; 11 percent went into financial services; and 11 percent went into biotechnology, health care, and pharmaceuticals.
"While tech and consulting remained our top sectors, more students accepted jobs in other industries, including energy, media and entertainment, manufacturing, consumer products, and biotechnology and pharmaceuticals," Stephen Rakas, Executive Director of the Masters Career Center, said. "This speaks to our students' broad interests and the success of the Tepper School at preparing them to succeed in both larger organizations and startups."
The Masters Career Center (MCC) was ranked #7 by The Economist for student assessment of career services and #11 by the Financial Times for alumni assessment of career services in their 2018 rankings.
 Internships Across Industries
MBA candidate Betty Ou credits the MCC for helping her secure an internship this summer. "My MCC counselor has been the strongest supporter and adviser to me right from the start of recruiting," Ou said. "She helped me identify my personal brand and develop personalized strategies for networking, applications, and interviewing."
Ou completed a marketing internship with the technology company Philips. "During my internship at Philips, I had the opportunity to collaborate cross-functionally, exercise my communication skills and gain buy-in successfully," she said. Like the graduating class before them, returning second-year MBA students held internships in a diversity of industries.
Many students have received outstanding full-time employment offers as a result of their internships. Michael Levit completed his investment banking internship at J.P. Morgan with an employment offer. "This was completely school and alumni driven. The alumni and Graduate Finance Association supported me all the way," he said.
Nowell Kahle will be joining The Hershey Company as an Associate Brand Manager following his summer internship. "I was empowered to work across the organization and with external partners," he said. "I had the opportunity to learn and exercise multiple tactical, strategic, and leadership skills during my internship. I received the full-time offer based on my performance during my internship." 
"We're incredibly proud and excited to celebrate the many accomplishments of our students," said Robert Dammon, Dean of the Tepper School of Business and Professor of Financial Economics. "The 2018 Employment Report results showcase the strong business, analytical and leadership development that a Tepper MBA provides."
For a comprehensive breakdown of career and internship statistics, review the 2018 MBA Summary Employment Report (pdf).