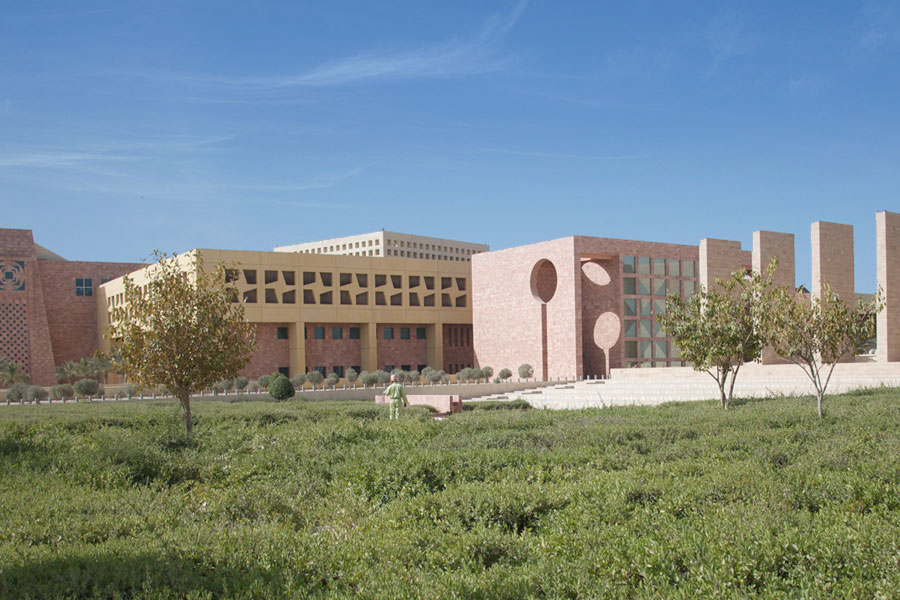 April 02, 2018
Student Spotlight: Undergrads spend spring break at CMU-Q
During spring break, four students from the Tepper School of Business undergraduate business administration program traveled to the Carnegie Mellon University campus at Education City in Doha, Qatar. The four students were selected from a pool of applicants to participate in an annual case competition, organized by Patrick McGinnis, distinguished career professor in business communication at CMU-Q, which brings together students from the Pittsburgh campus and the Qatar campus to collaborate on a real business case.
Juniors Mallika Khanna, Ariana Rudina and Quinn Zsido and senior Michael Kalnas joined the CMU-Q students, who were also involved in the competition, in the lobby of the Qatar Foundation's headquarters on Thursday, March 15 to learn the topic of the competition. The students were tasked with presenting a plan to form a Qatari fashion council that could elevate the fashion industry in Qatar and across the Middle East.
Zsido's team — including CMU-Q students Majdi Khatib and Maruf Zakaria — spent the rest of the afternoon researching economics and fashion in the Middle East. "It was interesting navigating around what I'm not entirely familiar with," Zsido said. "I learned the ins and outs of the fashion industry over the course of 24 hours. Along with that, I learned a lot of the economics that surround it."
"On Friday morning, we began the real work," Zsido said. "We worked for the next 24 hours, really. I know my team worked through the night — as did many other teams."
Teams of three worked to create 20-minute presentations with recommendations for how to build a fashion council and to identify resources the Qatar Foundation could involve. "It was kind of piecing together numbers off of qualitative information, which is difficult because there are so many routes you could go in," Zsido said.
Kalnas took on a leadership role on his team, which included CMU-Q students Mohamed Abdelkader Hamdi and Emad Iqbal. Having learned from previous case competitions, he made sure that the work was well-distributed among his teammates and that he and his team got a good nights' rest the night before the competition. "Going into this one, I knew that making sure everyone had an even amount of work is very important," he said, adding, "Not staying up was very important."
The morning of the competition began with each of the six teams of students giving presentations to a set of judges, including alumni, industry professionals and Qatar Foundation representatives. The teams were split into two groups, and the winning team from each group advanced to a final round consisting of a 45-minute presentation in which the judges challenged them with questions throughout their prepared remarks.
Kalnas' wisdom paid off well: He competed in the final round against his classmate Rudina's team and won.
"Giving our undergraduate students an opportunity like this is invaluable," Jennifer Wegner, executive director of the Undergraduate Business Administration program, said. "Not only are they immersed in addressing a real business challenge, but they also have the chance to experience a different culture and learn how to navigate interactions and collaborations with other peers and clients in this new culture. Expanding these skillsets are so important in today's global business environment."
Kalnas appreciated the experience of adapting to a different society and reflected on how useful the experience will be to his future career. "That's something I can take with me forever," he said. "I'm going into relationship investment banking, so I'll be traveling to Japan and other countries I've never been to before and where I have very little personal understanding of the culture."
Zsido took the opportunity while on the Carnegie Mellon campus in Qatar to meet with a career consultant. He is completing a minor in Arabic and Middle Eastern relations, and said he would like to work in the Middle East after graduation.
Before launching into the intensive 48-hour competition, the students were able to spend the first few days exploring the city and absorbing its culture. "We stuffed everything we could into 48 hours," Zsido said, including trying restaurants all around the city and visiting the Museum of Islamic Art on Doha Bay.
The highlight of the trip for both Kalnas and Zsido was a hosted trip outside the capital city. "We went dune bashing," Zsido said. "It's like a roller coaster, driving up and over the sand dunes. It was amazing. It was kind of surreal, just looking out over the open plain of the Qatari sand."
"The views were probably the coolest part," Kalnas said. "I loved being out there on the sand dunes, looking out over the Persian Gulf."