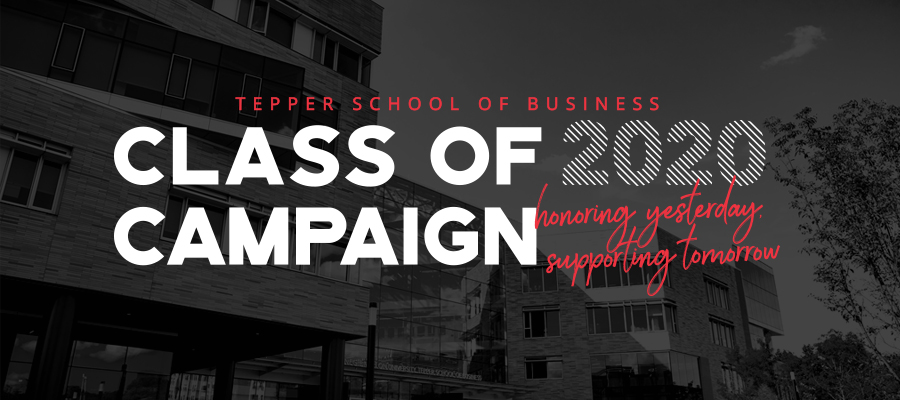 Celebrate 1(+) Years By Giving Back!
It's hard to believe that this Spring marks 2 years since we graduated from the Tepper School. In honor of this milestone and in memory of our experience and education, let's join together in support of the Tepper School.
This year we are challenging our class to reach 35% class gift participation. We need your help to meet our goal!!
Fundraising Progress
Goal: 105 Donors

28 Class Gift Donors

$2,930 Raised
We're 27% of the way there!
Become a Sustaining Donor
Your recurring monthly, bi-monthly, quarterly, or annual gift will help ensure consistent support for Tepper students, faculty, and operations.
Make a One-Time Class Gift!
*Recent alumni (within five years of graduation) with gifts totaling $1,000 in a fiscal year qualify for membership in the W.L. Mellon Society, the Tepper School's society for our most generous donors. Membership benefits include listing within the Tepper School on our donor board, invitations to exclusive events, and special communications. The regular membership level is $2,500, which includes the above benefits and membership in CMU's Andrew Carnegie Society.
Tepper Class of 2020 Campaign
By contributing to our class gift campaign, your generosity will provide essential support to Tepper School priority funds. 
Tepper Community and Inclusion Fund: All members of the Tepper School community, including students, student organizations, faculty, and staff, can apply for Community and Inclusion Funds to create an event, program, or initiative that supports the school's diversity and inclusion goals.

Tepper School Fellowships: Last year, 831 students received financial aid through Tepper School Fellowships and other awards, making a Tepper School education possible for our diverse and high-quality students by reducing the financial burden of tuition.
Tepper School Annual Fund: The Annual Fund supports areas of greatest need at the school, including student financial aid, student engagement experiences, alumni engagement opportunities, student safety and education.
Help our Tepper Class of 2020 leave a positive legacy for current and future students by making a class gift contribution today.
Tepper 2020 Class Gift Committee

Jenna Berkowitz
Class Gift Co-Chair

Andrew Solomon
Class Gift Co-Chair

Dave Turner
Class Gift Co-Chair
Class of 2020 Donors: Thank You for Your Class Gift!
David Baars
Joseph Bellesheim
Thomas Bender
Wesley Brown
Campbell Caskey
Tapiwa Chinodakufa
Sam Cobean
Patricia Cobleigh
Shetara Edden
Shawn Foust
Neil Gunn
Rachel Hornak
Gregory Kanagaki
Rachel Legman
Justin Lipstein
Iryna Marchenko
Andres Michel
Shilpa Misra
Christian Payne
James Perkins
Luis Raygada Chumpitasi
Maike Reutler
Wallace Scott
Lucas Slagel
Jason Somma
Min Wei
Robert Welch
Yue Zhong