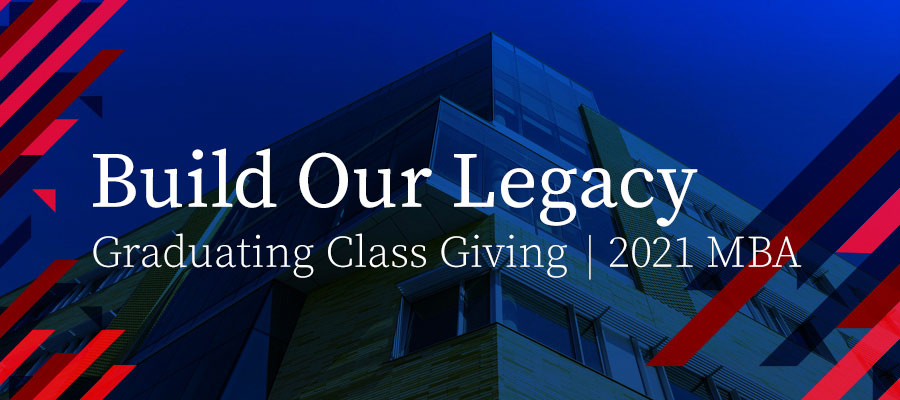 2021 MBA Class Gift Campaign 
The graduating MBA class is coming together to support our 2021 Class Giving Campaign. We hope you'll join us in showing our pride in the school and our program by making a contribution this year.
What is Class Giving?: While our MBA experience at Tepper has drastically been affected by COVID, we are an important part of the Tepper community for life. This is our chance to unite as a class to leave a lasting impact that will help to ensure the success of the Tepper program for years to come. A gift to any Tepper fund will be counted toward our class gift participation goal. We encourage you to support an area at Tepper that you care about.
Class Giving History: Graduating Class Giving been a Tepper tradition for over 20 years. The full-time graduating class has reached over 90% giving participation for 7 years straight.  The Class of 2018 set the current record with 100% class participation. Help us continue this tradition of strong support by giving back to an area you care about at the Tepper School. 
This year the PTOH program has already reached 91% giving participation. Let's join together in some friendly competition to show the strength of the full-time program.
Are You Part of the 2022 Class? The Class of 2022 is welcome to make a gift to the Tepper School on this page. We encourage all MBA students to make a gift during their first year.
Why Give? 
To demonstrate your pride and confidence in the Tepper School MBA program.
As a thank you to the school and our program, in recognition of the friendships and opportunities the Tepper School facilitated.
To pay it forward.
To invest in the future of the school.
To join your classmates.
How Much Should I Give?
As a participation campaign, it's not the gift amount that matters, but rather that you chose to support the Tepper School, showing a vote of confidence in the school. We recommend a monthly recurring gift of $10. (That's less than the cost of one cup of coffee a week!)  
Annual gifts totaling $500 or more qualify students for membership in the W.L. Mellon Society, the Tepper School's society for our leadership donors. Membership benefits include listing within the Tepper School on our donor board, invitations to exclusive events, and communications. 
Fundraising Progress
Goal: 203 Class of 2021 Donors

Current: 88 Donors

$6,424 Raised

W.L. Mellon Society Members: 4
Progress Toward Goal
We're 43% of the way there!
Become a Sustaining Donor
Break-up your gift into budget-friendly payments and have it renew automatically.
Make a One-Time Gift to an Area That You Care About!
Fund Descriptions
Tepper School Annual Fund: Provides the most flexibility which is especially appreciated by the Dean's Office. During this unprecedented time, the Annual Fund greatly assists our students and faculty. Each year the annual fund supports:
Financial aid, student experiences (like club activities, Basecamp, Accelerate Leadership Center, and Access Weekends), INTERSECT@CMU conference, faculty research, Diversity Weekend, Welcome Weekend, and Tepper Talks admissions event
Tepper School Fellowship Fund: Provides current-use financial aid funding for graduate students.

Tepper Community and Inclusion Fund: Provides funding for events, programs, and initiatives that support diversity, equity, and inclusion.

Tepper Club Sponsorship: Supports your favorite Tepper School Club. 

Yellow Ribbon Match Fund: Allows the Tepper School and the Veterans Administration to partially or fully fund tuition and fee expenses that exceed the established thresholds under the Post-9/11 GI Bill.
Tepper Women in Business Conference: Delivers professional and leadership development for MBA and early-mid career professional women.

Accelerate Leadership Center: Supports the development of MBA leadership skills and training.

Consortium Scholarship: Enhances aid to minority students and promotes a more diverse MBA class, in partnership with the Consortium for Graduate Student in Management.

Tepper School Lifelong Learning: Supports cutting edge learning opportunities for alumni such as podcasts and self-guided micro-courses.
Don Jones Center for Entrepreneurship: Enhance educational opportunities for students and faculty in the center; associated with Swartz Center for Entrepreneurship.
International Graduate Student Support: Provide support for initiatives that improve the international graduate student experience at the Tepper School, including the development of an arrival toolkit to help students acclimate to life in Pittsburgh and the United States.
Thank You for Making Your Class Gift!
Marlo Abramowitz
Olasubomi Adesoye
Akanksha Agrawal
Pakorn Amornpatchara
Yosuke Arimori
Francis Avino
Penelope Barnes
Christopher Beck
Lucas Bernat Miralles
Khushboo Bhanushali
Melissa Bizzari
Rebecca Blei
Liang Cao
Nanthinee Chunothaisawat
Charles Cooke
Ryan Dettmann
Shikha Dulani
Blaine Dunham
Emily Ellis
Noreen Fischer
Benjamin Fleming
Brendan Floyd
Soureesh Ghosh
Kristofer Grambow
Michael Greene
Matthew Griffin
Priya Gupta
Wesley Hall
Vaibhav Hans
Anthony Hansen
Scott Hendrix
Jose Hernandez Gallegos
Yining Hu
Alvin Huff
Hidetaka Imanishi
Abhishek Iyer
Apoorva Jain
Prashant Jayaraman
Joshua Kaplan
Mansi Khare
Kaito Kobayashi
Akinori Kono
De Mao Kung
Shotaro Kuranaka
Aleksander Lapshin
Timothy Lee
Justine Lohrey
Shu Yu Ma
Jacob Martens
Michael McCloskey
Daniel McDade
Cynthia Mills
Paul Mulholland
Vedika Narayanan
Kristina Nikiforova
George Ozawa
Andreas Parini Estermann
Boonrith Pongrasamiroj
Kamari Purcell
Jiahao Qiu
Eliana Rabinowitz
Aamer Rakla
Madhumita Rautela
Dana Saeed
Sanya Sardana
Tennyson Schwartz
Parth Shah
Nitzan Sherman
Yiran Shi
Christopher Simmons
Nutchpon Siripanichgon
Siva Krishna Somisetty
Franz Stoneking
Ronald Stradford
Nicholas Strobel
Palida Suwanpromma
Austen Sybert
Pimsiri Tangyuenyong
Paul Teufel
Mable Rose Thelakkaden
David Van Wert
Nagini Velagapudi
Benjamin Weiss
Evan Werner
Ashley Whiteman
David Yaffe
Xiao yi Zheng
Jun Zhou