Environmental Technician Training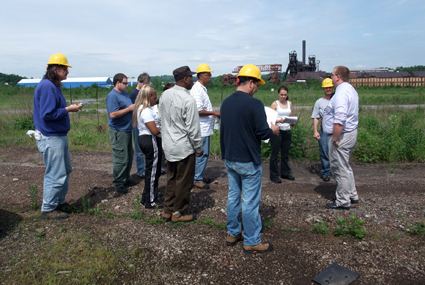 The Western Pennsylvania Brownfields Center, is cooperating with the Heritage Community Initiatives in Braddock, PA to provide environmental technician training. The program began in 2008 with funding from by the US Environmental Protection Agency's brownfield initiative and continues through 2011 with additional funding from the USEPA as well as the US Department of Labor.  The program targets the un- and under-employed who live in neighborhoods that have been impacted by brownfields and provides a 'tool box' for the graduates to be technicians that might perform sampling and analysis tasks associated with remediation projects. To date, nearly 200 trainees have graduated from the program and continue to receive 'Career Coaching' from Heritage Community Initiatives.
It was the role of the Western Pennsylvania Brownfields Center to develop and implement the curriculum. It was the role of Heritage Community Initiatives to recruit, screen, place and monitor the trainees.
Generally, the 5-7 week program contained classroom style lessons (sometimes with guest speakers), field trips, certificate training (HAZWOPER, asbestos worker, lead regulations, OSHA 10-hour construction safety and OSHA confined space) and a 'capstone' field exercise. In the classroom, we covered topics such as environmental history, environmental regulations, environmental science (such as the hydrologic cycle and ecosystems), introduction to geology, air quality and climate change, landfill design and construction, and more. In addition, each day, we gave a quiz, reviewed vocabulary, did a couple of relevant math problems and talked about current events -- needless to say, it took a lot of planning and our days were very full. We also conducted a pre-test at the beginning of the class room portion of the program and a post test at the end -- just to see how well we did!  As noted above, graduates of the program receive ongoing coaching as well as access to additional training course through the duration of the grant.
In the end, we learned as much as our trainees in working through this program a couple of times! For more information about curriculum, please contact Deb Lange, dlange@cmu.edu. For more information about recruitment and placement, please contact Roy Aguiar (raguiar@heritageserves.org) of Heritage Community Initiatives.