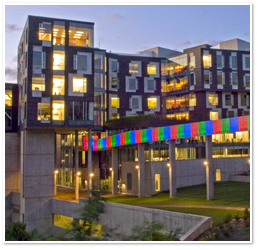 Support the Pausch Bridge Fund »
Honoring Randy
Randy had a lasting impact on the university community.
A memorial service (watch video) was held at Carnegie Mellon in Pittsburgh, Pa., on September 28, 2008.
And in November 2009, a permanent memorial was announced — The Randy Pausch Memorial Bridge (watch video).
Randy's original vision for co-founding The Entertainment Technology Center was to partner the arts and the sciences. And that's exactly what the Pausch Bridge does.
It connects one of the university's fine arts buildings, Purnell Center, with the Gates & Hillman Centers, the home for computer science at Carnegie Mellon.
Randy's influence on the bridge doesn't stop there.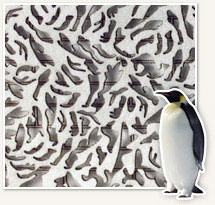 During his many classroom discussions, Randy reminded students that even in dangerous waters, one penguin had to be brave enough to take the first dive.
At the end of the semester, he often gave "The First Penguin" award to the student(s) who took the biggest risk.
The design of the Pausch Bridge pays tribute to all the "penguins" of the world with abstract penguin cut-outs.
And the light show. Each series of light refers to different parts of Randy's lecture. Learn more »
---
Continuing His Legacy
Randy's legacy continues at Carnegie Mellon — and with his Alice Project. You can be a part of continuing Randy's vision by giving to one of his funds.
Another important cause — and one that Randy's family continues to support — is pancreatic cancer research. You can support the Pancreatic Cancer Action Network by visiting PanCan.org »