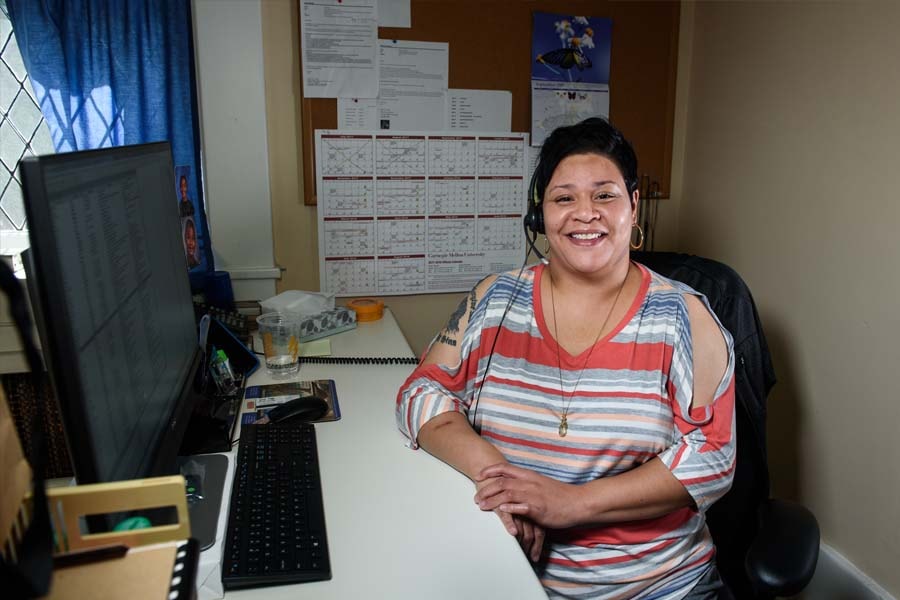 September 27, 2017
Keeton Answers the Call for CMU
By Bruce Gerson bgerson(through)cmu.edu
Heather Keeton has your number.
As one of only two information service operators at Carnegie Mellon University, Keeton answers and directs calls made to the main university telephone line.
From 8 a.m. to 5 p.m., Monday through Friday, Keeton and her colleague field an average of about 500 calls per day.
"Most calls come in between 10 a.m. and 2 p.m. That's our peak time and that's when it might take a little time for us to get to the phone," she said.
Keeton said the majority of calls are for the Hub, the Admission and Accounting offices, the bookstore, the Computer Science Department, and the schools of Drama and Music. She also receives many calls from people trying to contact specific faculty and staff members.
Keeton's office receives an updated list of all CMU faculty and staff telephone numbers from the office of Human Resources each week.
"We upload the new list to our system every Monday," she said. "When a call comes in we can search our database by first or last name, department or title."
Keeton has been working the phone at CMU for more than 17 years. She also sets up conference calls for faculty and staff.
"I love it. I like to help people and, generally, you get nice people calling," she said. "I'm very comfortable here. It's a small department, and we know each other like family."
A member of a large military family, Keeton is the youngest of eight siblings. Her father served in the Army and several of her brothers and sisters were in the Air Force, Navy and Coast Guard.
"I've been to all the East Coast states, from Maine to Florida, visiting my family at their bases or vacationing with them. I like to travel," she said.
After work, Keeton likes to relax.
"I like to go out to eat and go to the movies. I like 'me time,'" she said.
Have a suggestion for the Staff Spotlight? Send it to piperweekly@andrew.cmu.edu.