November 17, 2016
News Briefs
Shop Tonight for CMU's Children's School
Shop at Ten Thousand Villages in Squirrel Hill from 6 - 8 p.m., Thursday, Nov. 17, and a percentage of your purchase will be donated to CMU's Children's School. The Children's School, accredited by the National Association for the Education of Young Children, offers morning and afternoon pre-school and kindergarten programs for children between the ages of 3 and 6.
Ten Thousand Villages is at 5820 Forbes Avenue, Pittsburgh, Pa., 15217.
Case Competition Winners Announced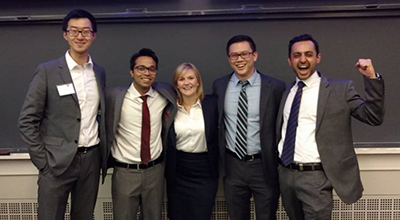 This past weekend, 11 teams competed in the McKinsey and Company Case Competition, hosted by Tepper School of Business alumni who work at the McKinsey office in Pittsburgh. The winning team (pictured l. to rt.) includes first-year Tepper School MBA students Keith Xu, Usman Hasan, Emily Gennaula, Luyao Fang, and Abdullah Khan from the Heinz College.
The Tepper School's Undergraduate Business Administration Program also hosted its internal UBA Case Challenge on Saturday, November 5. Five teams participated in the competition that involved creating marketing strategies for the restaurant chain Chipotle. The first place team includes decision science major Eugene Chung, business administration major (visiting from the Qatar campus) Farha Khan, and business administration major Zeeshan Rizvi.
Second place winners included business administration major David Beinhart, business administration major (visiting from the Qatar campus) Syed Hammad Mahmood, decision science major Cori Sidell, and economics major Alexandra Ulven.
Customer Appreciation Event at Costco
Staff Council has arranged for CMU employees to particiapte in a Costco Customer Appreciation Event from 10 a.m. - 5 p.m., Saturday, Nov. 19 and Sunday, Nov. 20 at Costco, 501 W. Waterfront Drive, West Homestead, Pa. 15120.  Join as a new Executive Member and get a $20 Costco cash card or join as a new Gold Star member and get a $10 Costco Cash Card.


Sorrells Library Renovations Planned for Winter Break
Phase 2 of the renovation of the Sorrells Engineering & Science Library in Wean Hall will take place over winter break. This project embraces the university's efforts to enhance the CMU experience and the Strategic Plan's vision for an interactive 21st century library.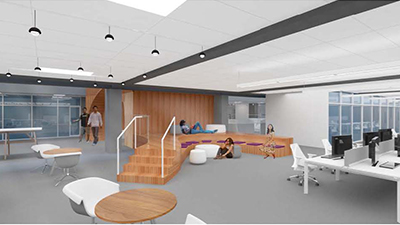 Planned with student and faculty input, the new Sorrells design will provide a variety of spaces to support learning needs, including a number of group study and project rooms, individual study carrels, and "The Den," a meeting, display and discussion space. 
To allow completion of the new layout, some lesser-used collections will be transferred to other library facilities including the Hunt Library and the Penn Avenue store. That process is currently underway. Sorrells Library will close at 1 a.m. on Saturday, Dec. 17 and re-open on Tuesday, Jan. 17. Details about library support during this time can be found on the library's website.
Meet the Architects. On Friday, November 18 from 12 p.m. to 1 p.m., members of the campus community are invited to an Open House at Sorrells Library to learn more about the renovation. Refreshments will be available.
Staff Discounts to Kennywood's Holiday Lights
Staff Council is offering discounted tickets to Kennywood's Holiday Lights events, 5 - 9 p.m., Friday, Saturday and Sunday from Nov. 25 through Dec. 24. Tickets are now on sale for $16 and must be purchased by Dec. 23. Purchase your tickets online.
Support CMU's Toys for Tots Campaign 
The College of Engineering's First-Year Advisory Board and the Carnegie Mellon Police Department are teaming up for CMU's 12th Annual Toys for Tots Campaign. The program is modeled after the U.S. Marine Corps program that has been collecting toys for needy children since the early 1950s. This year's campaign runs through Dec. 6. Donated toys must be new and unwrapped.

Here are the drop-off locations:
Carnegie Mellon University Police, 300 South Craig Street, Main Lobby;
Software Engineering Institute, Main Lobby;
Mellon Institute, 3rd floor Security Desk;
UTDC, Main Lobby;
Morewood Gardens, Student Life Office;
Warner Hall, Enrollment Services;
Cohon University Center, Student Activities Office;
College of Fine Arts, Room 104;
Pittsburgh Technology Center, Technology Drive, Main Lobby;
NREC, 40th Street, Main Lobby;
Hunt Library, 1st Floor Lobby;
Tepper School of Business, 1st Floor Main Lobby;
Scaife Hall, Room 110;
Wean Hall 4212; and
FMS Service Response Desk.
If anyone has toys that need to be picked up, has questions or would like to participate further, contact CMU Police Officer Donald Campbell at dktb@andrew.cmu.edu.
Holiday Sale at the University Store
Visit the University Store between Monday, Dec. 5 and Friday, Dec. 16 for its annual Holiday Sale, and get special discounts on some of your favorite items. Guests will receive a free CMU notecard with total purchases over $25, and a free 16 x 13 inch plaid gift bag with total purchases over $75.
The store also will be launching their new Scotty Rewards Program, which is a points system that rewards you when you shop at the University Stores. During the Holiday Sale, guests will earn double points towards future purchases.
The University Store is located in Cohon Center. Store hours during the Holiday Sale are Monday through Friday from 8:30 a.m. to 5 p.m.; Saturday from 11 a.m. to 4 p.m.; closed on Sundays. For more information, visit the University Store website.