November 10, 2016
News Briefs
Last Call: Open Enrollment Ends Nov. 14

Open Enrollment for 2017 health care benefits ends at 5 p.m., Monday, Nov. 14. Until then, faculty and staff have the opportunity to review their benefit options and make elections for next year. Employees can only change benefit elections during Open Enrollment, unless they experience a qualified life or family status change during another time of the year.
New for 2017, Aetna will replace HealthAmerica as the HMO medical plan provider. Aetna offers a nationwide HMO network, which means that this plan will now be available to employees and covered dependents living outside the Pittsburgh region. Those who are currently enrolled in the HealthAmerica HMO plan will automatically be enrolled in the Aetna HMO plan if they do not elect another option during Open Enrollment.
Other changes for 2017 include some modifications to the Caremark prescription drug plans. Also, MetLife will replace Sun Life as the university's life and disability insurance provider.
Learn more. And watch the video of the Benefits Open Forum that was held Oct. 25. 
Volunteer To Help Stop Hunger Now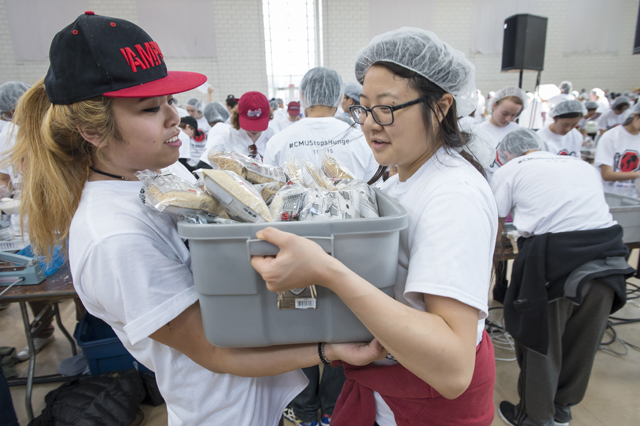 Carnegie Mellon is recruiting students, staff, faculty and their families to pack more than 100,000 dehydrated meals for people served by the global hunger-relief agency Stop Hunger Now. The second annual Stop Hunger Now Meal Packaging Event will run from 11 a.m. to 1 p.m. on Saturday, Nov. 19, in the Cohon University Center's Wiegand Gym. The deadline to register is Friday, Nov. 11.
Learn more and watch the video.
Shop for CMU's Children's School, Nov. 17
Shop at Ten Thousand Villages in Squirrel Hill from 6 - 8 p.m., Thursday, Nov. 17, and a percentage of your purchase will be donated to CMU's Children's School. The Children's School, accredited by the National Association for the Education of Young Children, offers morning and afternoon pre-school and kindergarten programs for children between the ages of 3 and 6.
Ten Thousand Villages is at 5820 Forbes Avenue, Pittsburgh, Pa., 15217.
Dining Services To Hold Meeting About Special Needs
Do you have a food allergy, intolerance or sensitivity? Dining Services is looking to improve the on-campus dining experience for those with special dining needs and will hold a focus group open to all students, faculty and staff at noon, Tuesday, Nov. 15 in the Cohon University Center's Caffee Room.
Email jtones@andrew.cmu.edu to register. Feedback and suggestions for new menu items can also be shared by completing this survey: https://www.surveymonkey.com/r/XFJ7JDP
Posner Fine Arts Foundation Seeks Student Intern
Encourage CMU students to apply now! The Posner Fine Arts Foundation funds one internship per semester for a CMU student to do individual research in the Posner Memorial Collection (rare books) and prepare a public exhibit. Interns receive a $3,000 stipend and work 15 hours per week to create their exhibits.
Hear recent interns talk about their experience. 
To apply, students should submit an application essay by Nov. 28. Find out more about the application process. If you have questions, contact Mary Kay Johnsen at 412-268-6622 or mj0g@andrew.cmu.edu.
Support CMU's Toys for Tots Campaign 
The College of Engineering's First-Year Advisory Board and the Carnegie Mellon Police Department are teaming up for CMU's 12th Annual Toys for Tots Campaign. The program is modeled after the U.S. Marine Corps program that has been collecting toys for needy children since the early 1950s. This year's campaign runs through Dec. 6. Donated toys must be new and unwrapped.

Here are the drop-off locations:
Carnegie Mellon University Police, 300 South Craig Street, Main Lobby;
Software Engineering Institute, Main Lobby;
Mellon Institute, 3rd floor Security Desk;
UTDC, Main Lobby;
Morewood Gardens, Student Life Office;
Warner Hall, Enrollment Services;
Cohon University Center, Student Activities Office;
College of Fine Arts, Room 104;
Pittsburgh Technology Center, Technology Drive, Main Lobby;
NREC, 40th Street, Main Lobby;
Hunt Library, 1st Floor Lobby;
Tepper School of Business, 1st Floor Main Lobby;
Scaife Hall, Room 110;
Wean Hall 4212; and
FMS Service Response Desk.
If anyone has toys that need to be picked up, has questions or would like to participate further, contact CMU Police Officer Donald Campbell at dktb@andrew.cmu.edu.
Alumni Association Seeks Student Service Nominees
The Alumni Association is seeking nominations for its Student Service Award, which recognizes a student's service to the university community and in service organizations. Service to the surrounding Pittsburgh community also will be considered. To nominate a deserving student, go online to view the criteria and access the nomination form. Letters of support are strongly encouraged. The nomination deadline is Nov. 30.
Find out more about the Alumni Awards. Questions? Send email to alumniawards@andrew.cmu.edu.