July 09, 2015
News Briefs
Power Shutdowns in Hamerschlag, Scaife and Roberts Halls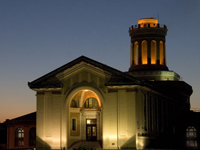 Facilities Management Services and Campus Design and Facility Development have planned a full power shutdown affecting Hamerschlag Hall, Scaife Hall and Roberts Hall from 12 to 8 a.m., Tuesday, July 28 and Tuesday, Aug. 4. This shutdown is necessary as a part of the Scott Hall Project.
A preparation meeting has been scheduled for 2:30 – 3:30 p.m. today (July 9) in Porter Hall A7E for all facility coordinators in the affected areas.
If you are a facility coordinator in an affected area and unable to attend, please send a representative in your place. 
Please RSVP to Shannon Wetzel (swetzel@andrew.cmu.edu) if you plan on attending this meeting.
CMU Probes Fairness of Online Ad Ecosystem
Experiments have shown that significantly fewer women than men were shown online ads promising them help getting jobs paying more than $200,000, raising questions about the fairness of targeting ads online.
The study of Google ads, using a CMU-developed tool called AdFisher that runs experiments with simulated user profiles, established that the gender discrimination was real, said Anupam Datta, associate professor of computer science and of electrical and computer engineering. Still unknown, he emphasized, is who or what is responsible. Was it the preference of advertisers? Or was it the unintended consequence of machine learning algorithms that drive online recommendation engines?
"This just came out of the blue," Datta said of the gender discrimination finding, which was part of a larger study of the operation of Google's Ad Settings Web page, formerly known as Ad Preferences. The finding underscores the importance of using tools such as AdFisher to monitor the online ad ecosystem.
"Many important decisions about the ads we see are being made by online systems," Datta said. "Oversight of these 'black boxes' is necessary to make sure they don't compromise our values."
2015-16 Wall Calendars Now Available
The 2015-16 official Carnegie Mellon wall calendars are now available in the University Store at $1.99 each. Bulk orders over 50 can be delivered on campus or sent via campus mail. For quantities under 50, please visit us on the lower level of the Cohon University Center. Please coordinate with your department before placing an order, to determine if a bulk order is being placed.
Order requests of 50 and over should be sent to art-store@andrew.cmu.edu. Your email should include your name, department, campus address, Oracle String and phone number. Orders under 50 must be placed and picked up at the lower level of the Bookstore using an Oracle number or Tartan card.
Off-campus orders will require an additional charge for a mailing tube.
Chemists Characterize 3-D Macroporous Hydrogels
Carnegie Mellon chemists have developed two novel methods to characterize 3-dimensional macroporous hydrogels — materials that hold great promise for developing "smart" responsive materials that can be used for catalysts, chemical detectors, tissue engineering scaffolds and absorbents for carbon capture.
Researchers working in the lab of Professor Krzysztof Matyjaszewski published their results in the May issue of Advanced Science, with the article featured on the journal's back cover. Their findings are the latest in Matyjaszewski lab's long history of breakthroughs in polymer science.
Curci Foundation Provides Funding for Neuroscience Research
The Shurl & Kay Curci Foundation has given $200,000 to an interdisciplinary research team at Carnegie Mellon to support fundamental research in neuroscience. The grant will allow biological sciences and engineering professors to teach mice to use brain-computer interfaces (BCI). The project could provide new information about the neural basis of learning, behavior and motor control, and could lead to the creation of a mouse model for BCI research.
Learning is the result of changes in the connections between individual neurons. To best study learning, researchers must study complex behaviors and the neuronal changes caused by those behaviors. Many tools exist to study neural activity in mice, but most tools for studying complex behavior are tailored for use in humans and other primates.
The Carnegie Mellon research team, led by assistant professors of Biological Sciences Sandra Kuhlman and Aryn Gittis, and Assistant Professor of Biomedical Engineering Steve Chase, plans to bridge this gap by training mice to use a BCI. While observing the subject's behavior as it uses the BCI, the researchers will use real-time imaging to monitor neuronal activity.
Researchers Developing Ways To Safeguard AI Applications
Manuela Veloso and Andre Platzer are among the initial researchers funded by the Elon Musk-backed Future of Life Institute to explore ways to keep artificial intelligence (AI) beneficial to mankind.
Musk, the entrepreneur behind both Tesla Motors and SpaceX, has expressed his concerns that people might lose control of AI. He donated $10 million to the Boston-based institute, which has now awarded $7 million to 37 researchers to explore the risks and opportunities surrounding AI.
Veloso, professor of computer science, received $200,000 to develop methods for AI programs to explain their actions, decisions and recommendations to people. This transparency, she said, is necessary to build systems that are safe and acceptable to people.
Platzer, associate professor of computer science, received $200,000 to adapt his KeYmaera tool, originally developed for verifying the design of cyber-physical systems such as aircraft collision avoidance systems and robotic surgery devices, for use in AI-based cyber-physical systems such as those that might drive cars or fly aircraft.
Athletics Hosts Summer Sports Camps
The Athletics Department is offering several summer sports camps for children of all ages. Camps include boys and girls soccer, boys basketball and girls volleyball.

The department also is hosting a FITT camp in which campers will participate in activities such as basketball, tennis, racquetball, badminton, soccer, ping-pong and frisbee.

Learn more about the camps.
Discounts Available to Cedar Point, Sandcastle, Idlewild and Hershey Park
Staff Council is offering discounted tickets to CMU employees for Cedar Point, Sandcastle, Idlewild and Hershey Park. For ticket prices and purchasing information, go to Benefits & Discounts on the Staff Council website and click on Summer Discounts.
If you have any questions, please contact Sharon Cavlovich at sharonw@cmu.edu or Nicole Stenger at nstenger@cs.cmu.edu.