April 02, 2015
Personal Mention
Top Achievers Honored In SCS Founder's Day Ceremony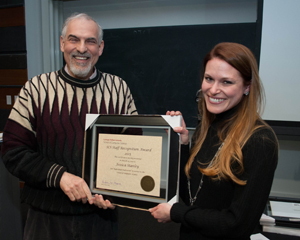 The School of Computer Science honored outstanding faculty and staff members March 24 during the annual Founder's Day ceremony in Rashid Auditorium. It was the fourth year for the event and the first to be hosted by Dean Andrew Moore.
Charlie Garrod, associate teaching professor in the Institute for Software Research (ISR), was the winner of the Joel and Ruth Spira Teaching Award, sponsored by Lutron Electronics Co. of Coopersburg, Pa., in honor of the company's founders and the inventor of the electronic dimmer switch.
Red Whittaker, professor of robotics, was the winner of the Alan Perlis Award for Imagination in Computer Science.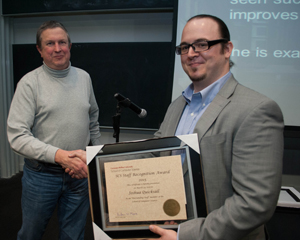 Scott Hudson, professor in the Human-Computer Interaction Institute (HCII), along with former and current students James Fogarty, Daniel Avrahami, Johnny Lee, Chris Harrison (now an assistant professor in HCII) and Robert Xiao, won the Allen Newell Award for Research Excellence for their pioneering work on advanced computer interfaces.
Rob Simmons, assistant teaching faculty member in the Computer Science Department (CSD), won the Herbert Simon Award for Teaching Excellence in Computer Science.
The SCS Building Facilities staff of Jamie Gregory, Jim Skees and Paul Stockhausen was recognized for Outstanding Teamwork.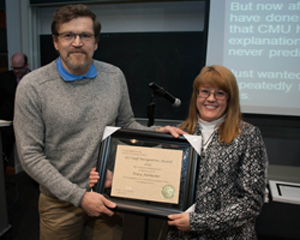 Joshua Quicksall, student-alumni relations coordinator for ISR, and Diana Hyde, assistant to the CSD head, won awards for Outstanding Staff, while Tracy Farbacher, CSD master's degree program administrator, received a Special Service Award.
Allen Stoltzfus, accountant in the Dean's Office, was honored for Sustained Excellence.
Jessica Stanley, administrative coordinator for HCII, won the Individual Dedication Award.
Alison Chiocchi, employee processes manager for the CSD, the Language Technologies Institute, the Machine Learning Department and the Computational Biology Department, was named Rookie of the Year, and Nichole Merritt, administrative assistant in Computational Biology, received the Rising Star Award.
Top Photo: Brad Myers presents the Individual Dedication Award to Jessical Stanley.
Middle Photo: David Root presents an Outstanding Staff Award to Josh Quicksall.
Bottom Photo: Tracy Farbacher receives a Special Service Award from Frank Pfenning.